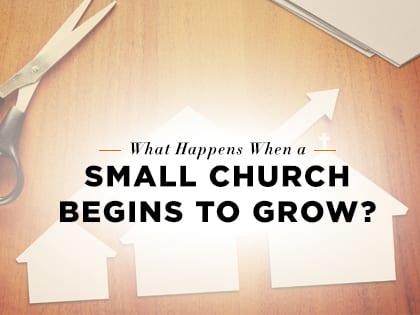 "I learned that small churches that begin to really reach out with the gospel would discover that their desires are at war."
Corinth Reformed Church had been at the corner of 100th Street and Division for exactly 100 years. They had grown from about 50 people to 250 in a century. You don't have to be a math genius to figure out that the church had added an average of two people per year. And, as you might guess, most of the growth was through birth and marriage. One interesting twist was that half of the church was made up of just three families.
Just before their hundred-year birthday, the pastor announced his retirement and the church hit a significant moment of decision. They had built a beautiful new worship space that was twice the size they needed. They had always had a heart to reach their community with the gospel, but never seemed to be able to connect in a way that brought nonbelievers in.
They decided their next pastor should be someone who was committed to help lead them in mission right in their own community. They resolved to count the cost and commit to evangelism as a core value.
That is when they came knocking on my door.
I was confident God was not calling me to a small country church. I was so confident that I barely had to pray about it—always a big mistake.
Related: How growing churches can maintain strong community »
About two months later I found myself preaching at the church and meeting with the congregation. As I interviewed the adults and high school students, I asked if they were serious about reaching the lost. They assured me they were. I told them, "All evidence to the contrary." They seemed shocked, but I pointed out a host of reasons unchurched people would feel unwelcome in their church. They were lovely people, but virtually everything they did was designed around tending to the sheep already in the flock. Very little was intended to reach those who were wandering and far from God.
They assured me that if I came and led them into their community with the gospel, they would follow. They were ready. They would sacrifice. They were in.
I did not believe them.
For the coming days our home mailbox was flooded with notes from dear people from the church telling my wife and me why God wanted us at their church.
A few months later I began what became a 14-year ministry at that small country church. For all 14 years we engaged in organic outreach together. What that means is that we sought to make our personal lives, our homes and our church centered on the call to reach out with the love, grace and truth of Jesus—in natural ways.
Over those years I learned that small churches that begin to really reach out with the gospel would discover that their desires are at war. They want to reach the lost, but most are fearful of the changes that will come with new believers. Each of the stories below is real (except the names). I hope they will give you a window into what you might face if you are part of a small church that begins to do effective outreach.
Mildred: "The Church Is Big Enough"
I went to visit Mildred in the hospital and while I was at her bedside she asked, "Pastor, can I tell you something?" I nodded an affirmative yes and braced myself. "I think we have enough people now. I think the church is big enough." She told me that she remembered the meeting about a year earlier, before I was their pastor. She assured me that she was all for new people coming to Jesus. But now we had enough. "I like knowing everyone and feeling like a family. With all the new people, our church feels different."
I said a quiet prayer for wisdom and continued the conversation. "Mildred, there is a family that lives across the street from our family. They have become our friends. Our family loves them! We are praying they will come to Jesus and some day become part of Corinth Reformed Church." I looked at her and asked, "Should I tell them they are not welcome?" She was shocked. "Of course not!" Then I explained that if they came, there would be more people.