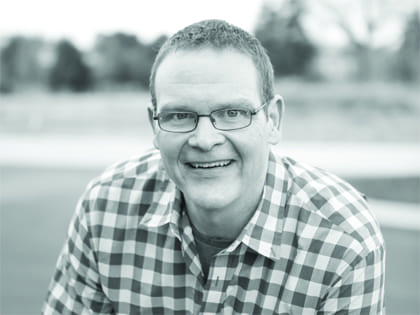 Ed Stetzer: "Let's pray and weep because alcohol continues to be a mocker, and let's not feel the need to join in that mocking."
At Outreach magazine, we were saddened to hear the news that Perry Noble had been removed from his position as lead pastor of NewSpring Church. Outreach columnist and contributing editor Ed Stetzer wrote the following about how the church can respond to this situation and to the issue of alcohol abuse.
By now, you've probably read that Perry Noble is no longer the pastor at NewSpring Church in Anderson, South Carolina.
The Greenville Online explained:
The Rev. Perry Noble, who started NewSpring Church nearly 20 years ago, is no longer its senior pastor.
Early in Sunday's 9:15 a.m. service, Executive Pastor Shane Duffey announced that Noble had been removed as pastor on July 1 … after Noble "had made unfortunate choices," and that the board members had confronted Noble on numerous occasions regarding his use of alcohol.
I don't know what the "unfortunate choices" are and I won't speculate. I grew up around alcoholism, though, and witnessed plenty of "unfortunate choices" that were connected to alcohol.
Related: 4 ways to respond when a pastor falls »
But, I do want to stop and think about the one detail that NewSpring has been clear about: alcohol issues and pastoral ministry. Though we don't know all the detail, I'll include a bit about the struggle of alcoholism in Christian ministry.
Obviously, the view of many Christians toward alcohol has changed over the years. A few years ago I shared a bit on the change.
Lutherans and Anglicans are more accustomed to dealing with the dangers of alcohol addiction, while some evangelicals are not. But, if this trend continues, they are going to have to be. If you go to a recovery group meeting, you would not be surprised to see a Lutheran in a collar; you'd be very surprised to see an evangelical pastor in skinny jeans.
In a few years, it may no longer be surprising.
The above article included an interview a southern evangelical pastor at a well-known church.
My friend found that an openness to alcohol, combined with a propensity to addiction, in a culture that hides drinking, is a dangerous combination.
Instead, evangelicals must start dealing with addiction in both an honest way and a redemptive way. Those who are beginning to hold a more open position on the consumption of alcohol should be careful that in their quickness to embrace freedom and liberty, they are not ignoring dangers and even blind to how this can hurt the opportunity to reach our neighbors. D.L. Mayfield wrote a Christianity Today cover story that addressed this very issue. In that article she wrote this convicting sentence: "With every picture, tweet and event that centers on alcohol, I wonder: Isn't anyone friends with alcoholics?"
On the other side of the issue, even those who have long held a position against any consumption of alcohol at all must start addressing addiction in a way that is more open and transparent. After all, the gospel we proclaim is exactly what brings the freedom we long for, and it should mean that we don't have to hide anymore.
Recently, in Relevant magazine, Zach Perkins explained:
At AA meetings and therapy sessions, talking about addiction makes sense, but for some reason, it's not a topic most church people want to hear about. Certain addictions are definitely more socially acceptable to talk about than others. For example, it's OK to bug Frank about his smoking, but John's alcoholism is more hush-hush.
And yes, in many churches, a person's addictions can become fodder for gossip. However, if the church were to first approach one another as family, then addicts in the church might feel safer to be vulnerable about their struggles. Often, they just need to be loved and feel safe enough to know they can expose this part of themselves in a community where the addiction isn't crushing them every second.
Now, I don't know all of the story, but Perry is my friend, has been my friend for some time, and will continue to be my friend. And, yes, I have reached out to him, and I love and pray for him.
But, there are a few things for all of us to consider in this moment.
1. Perry Noble did not have an alcohol problem because he did things that upset some Christians.
Lots of pastors—innovative, contemporary, traditional and liturgical—have struggled with alcohol. The Bible says that "wine is a mocker and strong drink a brawler" (Prov. 20:1).
Let's pray and weep because alcohol continues to be a mocker and a brawler, and let's not feel the need to join in that mocking and brawling. The world will do that enough.
2. Perry needs your prayers, not your "I told you so."
I get that Perry's approach to ministry has—at times—been a lightning rod, and I've discussed that with him, but this is not the time for such comments or speculation.
His church and his pastors will sort out the details, and we should trust the Lord in his guidance of that process. They don't need any of us being armchair pastors, speculating on how we think this happened or what we think they should do.
We have one role right now as fellow Christians, and for many of us, as fellow pastors, that role is to pray.
Please join me in praying for Perry, his family and NewSpring—and let that be your focus.
(Quick update: since posting this article, Perry and I have talked and he is getting help from a psychiatrist and is taking steps to address his alcohol dependence.)
3. You do not need to struggle alone.
If you are a pastor struggling with alcohol or any other addition, you don't have to struggle alone. There are ministries and resources like Recovering Redemption, Celebrate Recovery, Alcoholics Anonymous and more.
If you need someone to contact you personally, send us an email at [email protected]. Mark Dance, who leads our efforts with pastors, will get you in touch with someone who can help. (You can also use the LifeWay Pastors contact page.) Your name will be kept confidential and pastors of all denominations (and none) are welcome.
Or, if you prefer not to even share that information, call the Focus on the Family pastoral care line at 844-4PASTOR.
You don't have to suffer alone, and it won't end well if you don't get help. You do not have to hide. Alcohol isn't freedom, and hiding isn't the way out. We can stand together in the power of the gospel and see the way forward in hope.
At a time like this, perhaps it's good to remember the wise words that have been spoken. A fall, a failure, alone does not define us. Here, from the pages of Outreach magazine, are some good words and wise counsel from Perry.
"There is nothing on the planet that has the potential to change the world like the local church."
"Too many times, we become so concerned with offending people that we actually offend Jesus."
"Jesus died on the cross not only so I wouldn't have to go to hell, but also to give me an abundant life on this earth."
"God's will is good. But it's anything but safe."
"The person that is most difficult to lead is the person you saw in the mirror this morning."
"For the first 300 years the early church was not known for its theology. It was know for its generosity."
"We should always use our weaknesses to point others to Christ's strength."