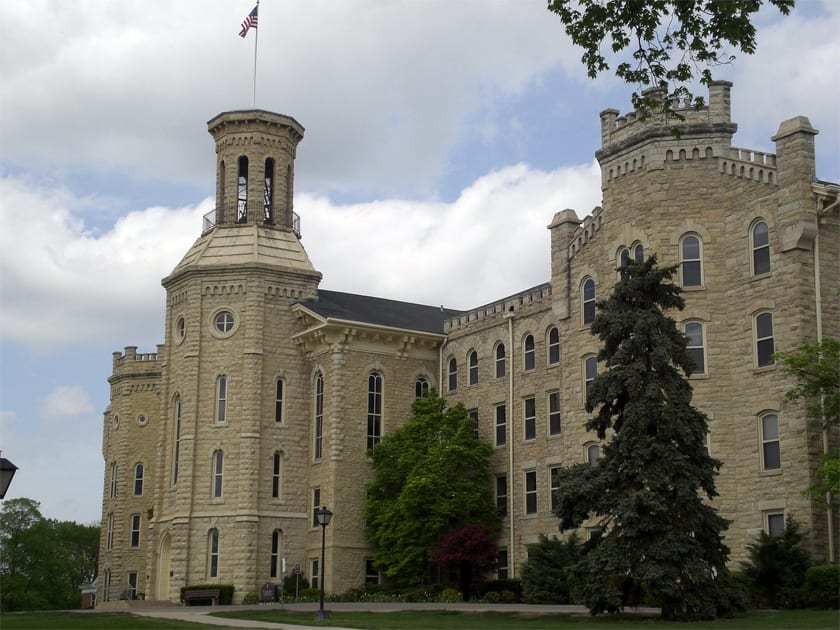 Wheaton College made the national news in a big way last month—while I was visiting with my daughter. Here's my reflection.
It was an odd day to visit Wheaton College.
I was in town for some work at the Billy Graham Center, where I'm providing some leadership as the Senior Fellow. While there, we made a statement about refugees and planned a summit. You can read about it in Christianity Today and at our summit web page.
A Wheaton Dad?
But, I was also there for my daughter to audition. Why? Because we are seriously considering Wheaton College for her undergraduate studies. So, I'm not on faculty at Wheaton, and I don't receive compensation from the school, but I might be a Wheaton dad!
So, while we were there visiting the school as a dad and daughter, it all broke loose.
The world heard that Wheaton placed a professor on administrative leave. Most heard that they did so for wearing a hijab, which is not true, but that does not stop the media in some cases.
On the campus, and in some of the better stories, it said that Wheaton suspended her because of her theological statements. And, that's true.
So, here's why that not only does not deter my interest in Wheaton, it piques it.
First, we want a school that cares about its beliefs.
I've seen too many schools in too many places move away from biblical orthodoxy in the name of academic freedom. I'm not interested in sending my daughter to another one.
Wheaton's administration believes that Muslims and Christians don't worship the same God and that's contrary to their statement of faith. Dr. Hawkins has said that they do, and cites Miroslav Volf's writings in the process.
Now, for full disclosure, this is an issue I've weighed in on before.
For example, in the very Christianity Today issue where Miroslav Volf discusses that Christians and Muslims worship the same god, I wrote the cover story and said that they don't—and also expressed that believing such is unhelpful to real multi-faith dialogue.
So, needless to say, I believe Volf's view is incorrect (though he is much more nuanced than my statement in my article, which was not addressed at his work). Volf's work is brilliant and provocative, but also just not what most evangelicals believe (see Scot McKnight, hardly as conservative as I am, on the issue last week).
So, I guess I need a poll to make an official statistical pronouncement, but I would think that the overwhelming majority of evangelicals would disagree with Volf, the Pope, President George W. Bush and President Barack Obama, who have all made some variant of that statement.
But, the point is, a poll does not matter. And, I'm sure you can find some self-identified evangelicals who take a different view. What matters here is that the evangelical leadership at Wheaton takes their statement of faith seriously and, well, they are unsure that Dr. Hawkins' statements align with their beliefs.
Caring about those beliefs deeply matters to me.
Not everyone will agree with how Wheaton handles every personnel issue, and those of us who have led organizations also know that such issues are complicated, but I'm thankful that Wheaton actually takes its beliefs seriously.
It has made us more interested in the school, not less.
I like a school that cares about its beliefs, cares about justice, and is action-oriented.
Second, we want a school that cares about justice.
My daughter once texted me a picture of herself in a hijab, commenting, "I wonder how people would shun me in Tennessee if I wore this." I think that was Dr. Hawkins' point—and, one that concerns me as well.
I've written an article in USAToday, titled, "Loving All our Neighbors, Even the Muslim Ones." I received a lot of hate mail that week, as you can imagine. But, I'm also guessing that love was part of Dr. Hawkins' motivation. And, I'm thankful that Wheaton is the kind of school that cares that people of all faiths needs to be respected.
There are justice conversations often around the campus. Dr. Hawkins was caring about justice for the marginalized. The students who protested were concerned about her.
My daughter cares about justice, too. And, I was on that very campus to make a statement about justice, which now is filled with signatures, including many Wheaton professors and students.
Their passion for justice made us more interested in the school, not less.
Third, we want a school that cares about action.
We actually walked over to the protest so we could see it. The students chanted, "Reinstate Doc Hawk." I can tell she is a loved professor.
I was not there to join in or oppose—I just wanted my daughter to see passionate students speaking up because they cared.
There's a lot of talk about making a difference, but not a lot of action beyond Facebook posts.
So, we literally walked through the protest, listened to their voices, and prayed for and with them.
You see, at Wheaton, they are producing world-class leaders, and they are already speaking up. Some were graciously protesting against the decision, while others were holding up signs supporting the administration. Some have created a Thank You Wheaton website, expressing thanksgiving for how the institution takes doctrine seriously (see my first point).
Their willingness to speak up and take action made us more interested in the school, not less.
What Now?
So, I'm not sure that my daughter will even get in to Wheaton, though she has some remarkable musical talent (as you can see at her Vanderbilt performance—get those scholarships ready!). Their academic requirements are quite high.
Furthermore, I'm not sure Wheaton will be where she ends up, even if she gets in. The other schools we are visiting also care about similar things.
If I want a school that does not care about its beliefs, isn't passionate about justice, and doesn't take action, I have a long list. Plenty of schools have one or two things we are looking for. But that's not what we want.
I like a school that cares about its beliefs, cares about justice, and is action-oriented. I saw that up close this week at Wheaton and I'm glad that in God's providence we were there.
Ed Stetzer holds the Billy Graham distinguished chair of church, mission and evangelism at Wheaton College and the Wheaton Grad School, where he also oversees the Billy Graham Center for Evangelism.