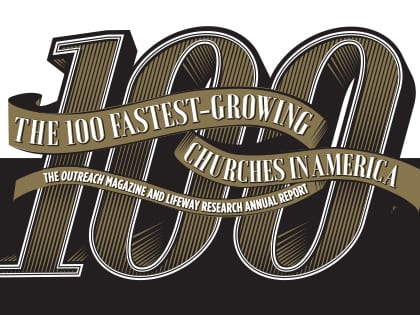 Celebrating the Country's Fastest-Growing Churches, and Refocusing on our Singular Task
On the release of The 2015 Outreach 100 American Megachurch Annual, we consider the implications of 1.
What's the significance of the number? Over the past year, the country's 100 fastest-growing churches added 73,715 regular attendees. On average, 737 people per church. A total increase of 24 percent, skewed high by the phenomenal increases of a few congregations
That's something worthy of celebration.
But who are those 73,715 people? How do we account for the increase? Part of the rise is attributable to transfer growth—a mobile population relocating and finding a new church; curiosity-seekers or spiritually hungry church attendees caught by the gravitational pull of what's happening at that "exciting, growing church" down the street or on the other side of town. That's part of it.
But there's something else going on here. And it begins with 1.
If you are an observant regular reader of Outreach magazine, you are probably aware that The Outreach 100 American Megachurch Annual, released in late September, follows soon after the July/August Small Church America issue, a publication celebrating the innovation, intimacy and impact of outwardly focused smaller congregations. That issue is no less of a party than this one, because ultimately what's behind the growth numbers of the American Megachurch and Small Church America is the same. It begins with 1.
Of course, there is something to be said for the dynamic that happens when numbers come together to share the same vision, the same mission—to learn together and worship together and serve side by side. But it begins with 1.
I remember a few sermons and large-group worship experiences that have had an impact of me, but what I most remember—and likely you do too—are the individual conversations, one-on-one, that turned out to be transformational. So you came to Christ in a congregation or in a vast gathering—or maybe through an individual encounter—but either way, you likely moved toward maturity through the impact of small, intimate faith-friendships. Even in big churches, as exciting as the Christian throng can be, don't we work to make sure individuals are not lost in the crowd? That somehow, 1 connects with 1?
We celebrate numbers, but we affirm the Spirit does his amazing work often in the context of gatherings as small as one quiet conversation. It is that transformative impact that we aspire to—whether we speak before many or converse with few—one life having impact on another, multiplied over and over again. Sometimes that happens in the context of the American Megachurch. Sometimes it becomes a celebratory moment in Small Church America.
So we applaud the 73,715 who now call one of America's fastest-growing churches home. It is a good beginning.
But we all have work to do. Some 1 is waiting.
—James P. Long
Editor