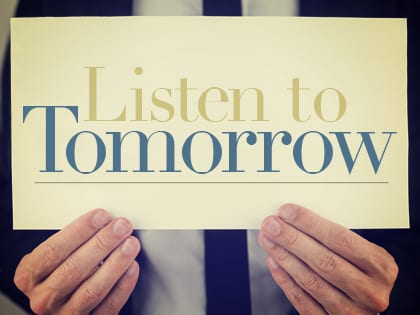 "This next generation has great insight to shape the whole church."
I am part of a church where I am now the oldest staff member. I remember being on a church staff as the youngest. I'd be sitting in meetings thinking how much older the senior pastor was. The women's director could have been my mom. I was the young one with fresh ideas and a pulse on the culture and the world. Now, I could almost be a dad to some of the staff.
Over the years, I have grown to love being the older one. And at Vintage Faith Church, we have a young staff, including about 15 part-timers and interns. I am constantly immersed in the world of the next generation. Things are never dull, never slip into routine and I never lose touch with emerging culture. It is as if I am in a think tank of information and ideas from that age group, which has led me to these observations:
1) To reach the next generation for Jesus, ask them how. I oversee the younger staff of the college ministry. As we evaluate and make changes year to year, we found that the best way to learn how to lead and reach this generation is to ask them. We survey the college-aged and get their direct input of what they think should happen. Now when church leaders ask me how to reach college-age or young adults I always say, "Why don't you ask them?"
2) Never make decisions for the whole church without getting input from younger voices and leaders. I believe this next generation has great insight to shape the whole church. I certainly get input from the elders of our church, several whom are older than I am. But I also want to tap into the young minds and hearts of this next generation. When I recently was mapping out the preaching series for our church, I sought input from younger staff and got ideas I wouldn't have thought of on my own.
3) Don't assume the next Mark Zuckerberg isn't in your church. What if an unknown college-age Mark Zuckerberg would have gone to the senior pastor of a church with an idea about a social network for the church? Would the senior pastor have thought it a crazy idea and said, "Sorry, Mark, we have a website and don't need something like that"? The innovation, change and ideas the church needs will likely come from emerging leaders. Sadly, I have seen church planters, zealous with ideas at the start, knowing change is needed to reach their generation, who 20 years later are now closed to change.
4) Listen to the ideas of younger voices, but also mix in the wisdom that comes with age. I also turn to those older than I am, knowing there are patterns older leaders may see that younger leaders, caught up in the moment, may miss. The good news is, in my experience, younger leaders desire older mentors to learn from.
It's exciting to see each generation of the church rethink what's needed to make the gospel of Jesus known in their generation. If you are an older leader, make sure you listen to the younger. If you are younger, never think you don't need the older. It's the beauty of the body of Christ all together as we serve on the mission of Jesus together.