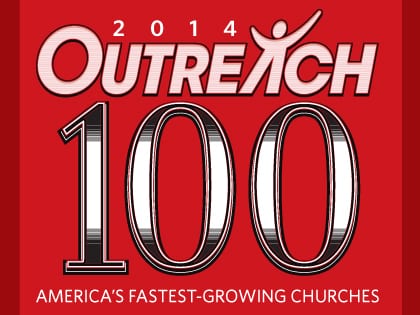 "God used the megachurch to reach Korea and the house church to reach China. Any church God uses is a great church."
The sun rose higher, clearing the back wall of FIddler's Green Amphitheater in Englewood, Colo., spreading fingers of warmth across a congregation of 12,000 or more gathered for the annual Easter celebration of Cherry Hills Community Church from nearby Highlands Ranch. Cherry Hills tops this year's Outreach 100 list of Fastest-Growing Churches. From my vantage point behind the band, up among a choir of more than 250 voices, I looked out across the church family gathered, caught up in celebration, an enthusiastic participant of something large and significant.
Download the 2014 Outreach 100 list of Fastest-Growing churches »
At the time, more than 14 years ago, I suppose moments like these—the power of hundreds or thousands united in worship–as much as anything epitomized the megachurch experience for me. And yet, of course, there was more: compelling preaching, the vast resources we've come to expect from large churches, the sense of community—or at least identity—we shared. And then there was Cherry Hills' statement of vision: "A congregation mobilized in service to transform the community, elevate the urban poor and impact our nation and world for Christ." That one line in particular caught and held my attention: Here was a suburban church committed to "elevate the urban poor"—and acting on that commitment.
When my wife and I relocated from Denver to San Diego, we affiliated with North Coast Church in Vista, Calif. (No. 86 on this year's Fastest-Growing list). Churches across the country look to North Coast as the pioneer of video venues and the multisite movement. The church has also been influential through its small-groups strategy, with 90 percent of the adult attendees active in sermon-based growth groups meeting for discussion, mutual support and community service.
Now, seven years later, we're back in Colorado, this time in Colorado Springs, worshiping at Woodmen Valley Chapel, which in addition to robust ministries and community engagement, has distinguished itself not so much through video venues, but through linking its two campuses in bidirectional live streaming of the worship experience—two worship bands, separated by eight miles, playing together in real time through the wonder of fiber optics—one church literally worshiping together in two locations.
This is the megachurch experience to me—or more accurately, this scratches the surface of the megachurch experience for me. And the best of what's happening in the America megachurch is spinning off scalable innovations that not only continue to morph the large church, but are also reshaping the country's mid-size and smaller congregations.
In this year's Outreach 100 special issue of Outreach magazine, you read profiles of 11 of the country's Fastest-Growing Churches (many more are posted here). You also discover that the growth factors these churches point to are almost all transferrable concepts, adaptable to most any congregation.
In the Outreach 100 issue, Ed Stetzer of LifeWay Research, Outreach magazine's research partners, rightly affirms that the big church is not somehow better. "Remember," he says, "God used the megachurch to reach Korea and the house church to reach China. We believe that any church God uses is a great church."
We couldn't agree more. And yet with this special Outreach 100 issue we pause to applaud the American Megachurch, to celebrate its growth and to express our appreciation for its innovation, an encouragement to us all as we continue to pursue faithfulness wherever God has privileged us to serve.
HOW IS THE OUTREACH 100 LIST CREATED?
The Outreach 100 is a collaboration between Outreach magazine and our friends at LifeWay Research, which is led by missiologiest and Outreach contributing editor Ed Stetzer. The LifeWay Research team surveyed churches, verified the numbers, calculated the results and compiled the lists. Outreach magazine conducted additional interviews with pastors of fast-growing churches.
In preparation for this annual report, we contacted churches soliciting participation from more than 27,000 churches. They were invited by fax, email, letter, phone and certified mail. The Outreach 100 is based on attendance averages, not membership. Churches that participate in the survey provide weekend attendance averages for February and March, excluding Easter. These figures are then compared with the previous year's averages for the same months. This year's Fastest-Growing list includes surveyed churches with attendance greater than 1,000, a numerical gain of 200 or more, and a percentage gain of at least 7 percent. The final rankings reflect an average of numerical gain and percentage gain. The Largest list includes all churches participating in the survey with attendance of 5,632 or more.
Some churches chose not to respond to multiple interview requests, for various reasons (though overall, more churches participated this year than have in the past). With that in mind, note that The Outreach 100 is not a comprehensive and exhaustive list. It is based on a self-reported survey, not an independent investigation. Although we went to great lengths to confirm data, the information is reported by pastors, staff or church officers, and as such, reflects their perceptions—their churches as they see them.
Ultimately, though, The Outreach 100 is not so much about numbers as it is the individuals those numbers represent—people who have found hope in Christ and the churches pointing them to him. If we glean insight from those churches and catch something of their passion for outreach, this special issue will have fulfilled its purpose.
Tell me more about the 2014 Outreach 100 »
Read the interview with Shane Farmer, senior pastor of the 2014 fastest-growing church »