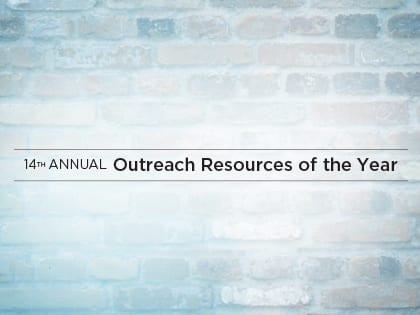 The year's best resources from evangelism to church, culture to apologetics, leadership to children and youth—2016.
With such a vast library of resources being released each year for church leaders, it can be difficult to keep up with all the latest ideas, strategies and trends. That's why every fall, the Outreach magazine editorial team invites Christian publishers and authors to send us their best resources from the past year. We sort those submissions into several key categories—evangelism, leadership, social justice, apologetics, culture and many others—and then ship them to a group of expert panelists who carefully select a Resource of the Year from each category.
We received close to 200 submissions with release dates between Nov. 1, 2015 and Oct. 31, 2016. We divided those submissions into 12 categories, with panelists for each category. Each panelist chose one Resource of the Year, with some providing "Also Recommended" selections.
This year marks our 14th annual Outreach Resources of the Year issue. We hope you'll discover which recently released resources are must-haves for your library, but we also want to highlight the contributions these authors are making to the church and the kingdom. We believe this year's lineup of selections will do just that.
This Year's Categories:
EVANGELISM
CHURCH
LEADERSHIP
CROSS-CULTURAL
SOCIAL JUSTICE
APOLOGETICS
CULTURE
DISCIPLESHIP
COUNSELING AND RELATIONSHIPS
CHRISTIAN LIVING
CHILDREN
YOUTH