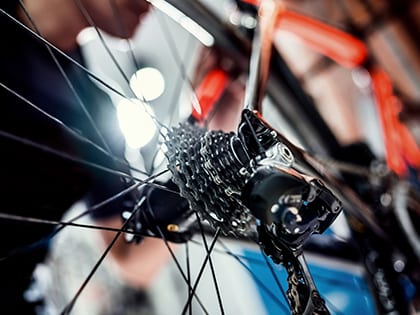 THE CHURCH
First Christian Church of Oklahoma City
THE CHALLENGE
Provide dependable transportation for the homeless, working poor and veterans.
ONE BIG IDEA
Refurbish and give away donated bikes to those who need them.
When John Malget became the senior pastor of First Christian Church of Oklahoma City the first thing he noticed was that the church seemed to be dying.
"When you're dying you have a tendency to look inward rather than outward," Malget said.
At a previous church, Malget had participated in a ministry called Chain Reaction that gave bikes to homeless people. He decided to try it at his new church. In November 2013 he set what he thought was an ambitious goal to give away 100 bikes in the first year. When they instead gave away 700, he knew they had struck a nerve.
"It just goes to show me how huge this issue really is for the working poor," Malget said. "If you can't get to a job, you can't keep a job."
Larry Batten is a retiree who volunteers daily as the ministry coordinator for Chain Reaction. To date, he has partnered with 15 community agencies, including the local VA, to give away over 2,600 bicycles to the homeless, working poor, veterans and other deserving people who need a bike to get to jobs, job interviews, grocery stores or medical appointments.
"When you don't have money, a bicycle is like a Cadillac," Batten said.
Every bike Batten gives away has been donated. When he receives a bike he deems too expensive to give away, he trades it to a bike shop for spare parts. Each of the volunteer mechanics who work with him to refurbish the bikes was previously or is currently homeless.
"It's their way of paying it forward," Batten said.
Batten has received over 250 letters from people he's helped, including a man who was able to overcome drug and alcohol addiction, reconcile with his daughter and get back on his feet. It all started with the simple gift of a bicycle.