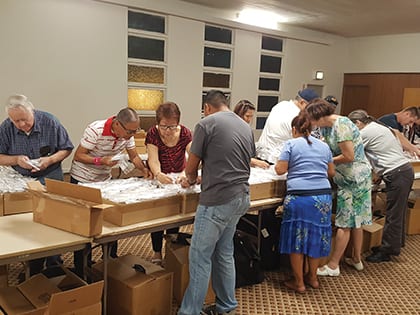 Despite Christianity's statistical decline in America, churches on mission are finding creative ways to facilitate gospel transformation in their cities. Here, we share the stories of three churches that are spreading the gospel directly and indirectly in their spheres of influence, using holistic ministry initiatives and evangelistic strategies to bring about true, lasting change in the people of their communities.
Opening Eyes and Hearts
First Baptist Church of Aurora Serves the Diverse Denver Community With Eyeglass Clinics
Located fewer than seven miles east of downtown Denver, First Baptist Church of Aurora (FBC) has existed for more than 65 years at the heart of a community that has been rapidly diversifying. Until the '80s and '90s, the area and the congregation had been predominantly white, serving three nearby military bases, two of which have since closed. Today on any given Sunday, the church hosts members from 26 different nations.
"The nearest elementary school to our building is called Crawford Elementary," says Senior Pastor Rico Gutierrez. "And of course, as a school, it's a good representation of the community. They have 32 nations represented in that school. So that means we're off by just six nations."
FBC itself is actually a collection of six individual congregations, called "ministry partners," each representing a people and language group: a Spanish-speaking group, a Swahili-speaking group, a Filipino-speaking group and three Burmese-speaking groups. Although each group has its own leaders, Gutierrez is the administrator of the six congregations, which all fall under the umbrella of FBC Aurora.
"It's kind of a dance," Gutierrez says. "Every part of the church, every part of the building is being used by a group at one time during a Sunday. For example, if someone has Sunday school, then the others have their main service. And then one comes in, one goes out. So through the years, we've learned how to dance together."
As part of their diverse reach, Gutierrez and his team have carried out a ministry that meets a critical need in the neighborhood. Members of the community, some as young as 8 and others as old as 80, gather at FBC or another location, like an apartment complex, to undergo eye exams, get assigned prescription numbers and receive a pair of glasses—and it's all completely free.
"We're nearing the 1,000 mark of people we've served in the last four years," Gutierrez says. "One of the great things that we've discovered is that doing eyeglass clinics is a visible way of sharing Jesus' love to the community."
Many of the participants are immigrants, including a large number of refugees who come from countries where ophthalmology services are scarce.
"We've encountered people whose eyes are really bad, who are half-blind or have glaucoma and other advanced eye diseases," Gutierrez says. "So for the very first time, they're being diagnosed through our clinics."