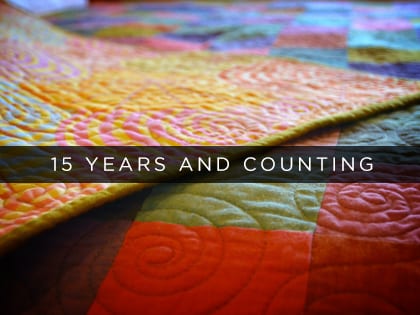 Ministry has produced more than 45,000 custom-made items for the hospitalized, dying, fostered and elderly.
The Church: Poetry United Methodist Church, Terrell, Texas
The Challenge: Create meaningful outreach in a small, rural church with an aging membership.
One Big Idea: Make a match between what your members love to do and the needs in your community.
Since 2001, the Women's Fellowship ministry at Poetry United Methodist Church has filled a tremendous need in its community. It's produced more than 45,000 quilted, sewn, knitted and crocheted items—both comforting and practical—for the hospitalized, dying, fostered and elderly.
The founder of the ministry, 87-year-old Esta Bayse, stands just 4 feet 11 inches tall, but she has a commanding presence as a sharp and dedicated leader. When she and her husband moved to Poetry, Texas, she asked the then-pastor at Poetry UMC in nearby Terrell if the church had any outreach ministries.
The short answer: "Not really." She asked if she could begin a quilting ministry, and the pastor gave her $300 to see what she could do. It was an excellent investment, and the ministry has blessed far more people than Bayse could have imagined.
During its 15 years, the ministry's volunteerism has earned it the President's Volunteer Service Award twice. Bayse has created a hyper-organized, efficient assembly-line system that's allowed the women to produce far more items than they could working independently.
Today, the ministry includes 35 to 40 women—most are retired, a few are younger, and all but four actually attend other area churches.
Despite the ecumenical nature of the ministry, Poetry UMC is its home. That original $300 investment 15 years ago has turned into a $3,000 line item in the annual church budget for supplies, and the church even built an additional room to serve as a permanent workspace for the women.
As the ministry has grown and earned its own money from donations and quilt raffles, it's given back to Poetry UMC, paying for maintenance and upgrades to the building and for other outreach and service opportunities in the church.
Bayse has even helped a handful of women start similar ministries in their own churches. But perhaps the most surprising blessing has been for the volunteers themselves.
"Some of these women think they have nothing else to offer in life, but they can come together and do things like this for other people," Bayse says. "There's a lot they can do."
Rev. Kathryn Curbo, Poetry UMC's current pastor, is inspired.
"This ministry gives me hope," she says. "These women make me look forward to my own future and think that aging isn't so bad."
All of that because a small but mighty 87-year-old woman asked 15 years ago if her church would let her start a quilting ministry.
Find more seniors outreach ideas »
POETRY UNITED METHODIST CHURCH
Terrell, Texas
PoetryUMC.com