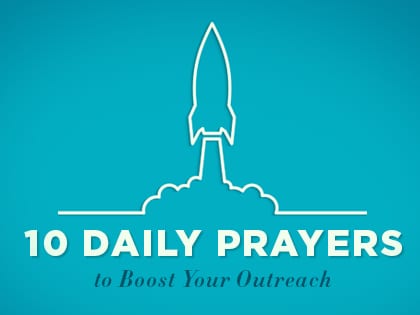 "If we are going to be effective in scattering the seed of the gospel of Jesus, we must keep things in their proper perspective."
Kevin Harney leads the Organic Outreach Conference (Nov. 10-12), a gathering of church leaders to collaborate on practical ways to shape the outreach culture of the church. For more information: OrganicOutreach.com
Sharing the love and grace of Jesus with the world is the call of every Christian. Young or old, bold or shy, new believer or long-time follower of Jesus … we are all called to tell the story of the Savior and show people that he is alive. We are partners in God's work of bringing the message of hope to the world. But, we are never the senior partner. God is!
The apostle Paul was clear that we have the privilege of scattering seed and watering it. But, only God can change lives, forgive sins, save and transform (1 Cor. 3:5-7). If we are going to be effective in scattering the seed of the gospel of Jesus, we must keep things in their proper perspective.
Our Part: loving deeply, serving humbly, speaking wisely, reflecting the presence of Jesus consistently and scattering seed everywhere we go.
God's Part: drawing people, changing hearts, convicting, washing clean and offering heavenly grace.
When we realize our part and God's part, we will grow as people of prayer. If God is the senior partner, then recognizing his part in the process is essential. If hearts are changed only by the work of the Holy Spirit, asking for his presence and power is a must. If God does the work and gets the glory, following his lead is the heartbeat of true and organic outreach. Our part is to engage in prayer through the flow of a normal day. This is the starting point of all effective evangelism.
As you go throughout your day, here are 10 prayers that will position your heart, mind and soul for scattering and watering:
1. "This day is yours … your will be done in and through me."
Lift this prayer up before your feet hit the floor. Lie quietly in your bed, or roll out of bed on your knees, and talk to God. Commit the day to him. Surrender your dreams, desires and schedule. In particular, tell God that you are ready to scatter the seed of his love, grace and truth wherever you go.
2. "My mouth is yours. Let me speak words that will glorify you and point people to Jesus."
As you stand in front of the mirror getting ready for the day, and as you brush your teeth, pray quietly for God to let the words you speak honor him. Invite the Holy Spirit to give you boldness to articulate your faith and his story at just the right moments and in just the right ways. Consecrate your mouth to tell stories of Jesus and to share his story whenever the moment is right.
3. "Equip me for the battles I will face today."
As you leave your house and enter into your community, ask God to protect you from the attacks of the Enemy. If you have family (children in particular), pray for their protection. The apostle Paul teaches us that our battles are not against flesh and blood, but they are spiritual (Eph. 6:10-18). With this in mind, pray for God's power and protection as you bring his good news into your world.
4. "Open my eyes to see the people around me the way you do."
When you travel through your day—walking, running, driving or flying—invite the Spirit of Jesus to help you see people as he does.
I remember a time I was walking quickly through O'Hare International Airport in Chicago, trying to make a connection, and I was irritated at all of the people in my way. All of a sudden, God opened my eyes to actually see deeper than people's faces. He gave me a heavenly glimpse into their hearts. I saw hurt, fear, loneliness, depression and sorrow. I had no doubt this was a unique gift from God for that specific moment. This moved me to compassion and even deeper prayer. Dare to ask God to give you eyes to see people as he does.
5. "Let me know your peace and patience."
In the hard moments when a meeting is getting tense, the baby is crying, conflict raises its ugly head … and everyone expects you to lose it, invite the Spirit of peace to descend on you. Then, pray that your calm response will shine as a light, showing people that Jesus is with you and in you.
6. "Lord, draw near this person and show them your face and your grace."
When you are interacting with someone going through a hard time, sorrow or some kind of loss, ask if you could have the honor of lifting up a brief prayer for them. If they say, "No, thank you," then just pray quietly in your heart. If they say,\ yes, then lift up a brief, heartfelt, simple prayer for God's presence and grace to help them through. You will be amazed that most non-Christians are actually open for you to pray for them in their times of need.
7. "Heavenly Father, thank you for your good gifts."
In the same way, when you are talking with a friend or family member who does not know Jesus, and they share a great joy or celebration, offer to lift up a prayer of thanks with them. Most people will say yes to this offer. Don't get too spiritual and keep your prayer brief, but thank God for the good gift they are experiencing.
8. "Open my mouth to ask good questions and my ears to listen attentively."
Every time you meet a new person, ask God to help you show genuine interest in their life, dreams, opinions and passions. Pray that you will ask good questions, and ask the Lord to help you engage in their story. Seek to learn about them and ask God to help you connect with their journey.
9. "Let the joy of your presence shine through me."
When you sense the presence and goodness of God, ask for the Holy Spirit to let his joy be seen in you and through you. In a dark and discouraged world, the delight of God and the hope of Jesus will shine brightly. Pray for your life to be a beacon of hope that draws people to Jesus.
10. "Let the seed that has been scattered take root and grow for your glory."
As you lay your head on the pillow at the end of the day, reflect on the opportunities you have had to scatter the seed of Jesus. Pray that other Christians will come along and water where you have scattered. Ask the Holy Spirit to do what only he can do, make the seed take root and change hearts and lives. Place the growth process in the hands of Jesus and remember that he loves the people in your life even more than you do. Then, rest well, knowing that another exciting day of scattering awaits you when you wake up the next morning.
Kevin Harney leads the Organic Outreach Conference (Nov. 10-12), a gathering of church leaders to collaborate on practical ways to shape the outreach culture of the church. For more information: OrganicOutreach.com
Kevin Harney is the lead pastor of Shoreline Church in Monterey, California, the founder and visionary leader of Organic Outreach Ministries International, and the author of the Organic Outreach series and many other books, studies and articles. KevinGHarney.com