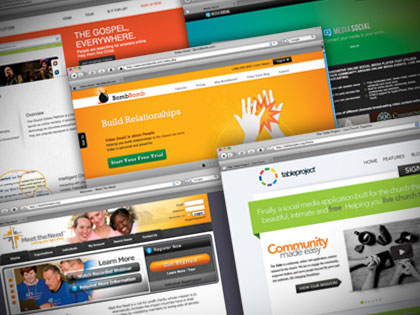 Resources to help you plan outreach events, get your message out and more.
Available church technology solutions are numerous, and their features and benefits even more abundant. For the less-than-tech-savvy ones among us, finding the solution that best fits your church's needs can be daunting. To help kick-start that process, here's a quick look at some options that can help you streamline the planning and organization of your outreach events; connect members and guests in an online community; broadcast your messages; dynamically communicate via email and smartphones; and much more.
Meet the Need
What Is It: Web-based software and database; free
Description: Unites and mobilizes the body of Christ to serve by empowering each individual church and ministry with a shared platform for communicating and managing volunteers, resources, events and mission trips, making it easy and seamless for individuals to sign up for specific commitments through their church's website.
Using It: Calvary Baptist Church in Clearwater, Fla., posts all of its outreach opportunities online through the behind-the-scenes operations of Meet the Need. When an area ministry needs volunteers, the need shows up on the ministry's site and Calvary's website (in addition to other churches in the area). Not only does the software make it easy for Calvary volunteers to learn about and sign up for opportunities to serve locally and globally, Calvary's volunteer organizers save time on registration and getting the word out about projects and events.
Media Social
What Is It: Online social media player; setup and monthly fee
Description: Using Facebook and Twitter, Media Social facilitates community around online media events, including both live and prerecorded video content. It can also stream live video and track participation through moderated chat, viewer maps and custom notes.
Using It: Community Bible Church in San Antonio, Texas, launched CBC Online using Media Social in July 2010. In the first week, 300 people logged on to participate in a worship service. Six months later, they began broadcasting 24 hours a day, seven days a week, to a global audience.
BombBomb
What Is It: Video email and email marketing application; $20 to $175/month (based on list size)
Description: Sends video messages, newsletters and promotions to specific groups within your church via email and tracks results.
Using It: The Gathering in Colorado Springs, Colo., has been using BombBomb for three years to create dynamic email messages—with video—from Lead Pastor Mike Worley. The church primarily uses it for a weekly newsletter to the church family, sharing news, events, snow closures, etc. With a smiling face and cheerful voice, the videos allow the church to connect in a more personal way.
The Table Project
What Is It: Web-based social media application custom-tailored for the church; free
Description: Facilitates community through a centralized online social hub for individual churches. Participants have the opportunity to introduce themselves, pray for each other; engage in church activities; and mobilize to serve others.
Using It: For its technologically adept audience, Substance Church in Minneapolis began using The Table in 2010 to strengthen community and intimacy across its four locations and seven services.
Church Online Platform
What Is It: Online ministry platform launched by LifeChurch.tv; free
Description: Helps churches launch an online ministry featuring video presentation; worship and teaching; live chats translated from multiple languages; one-on-one live prayer; and more.
Using It: Senior Pastor Greg Surratt of Seacoast Church in Mount Pleasant, S.C., says: "From seekers, homebound believers and regular attenders on the road to those looking for the first experience with our church, Church Online has allowed us to connect with them where they are instead of requiring them to come to us."