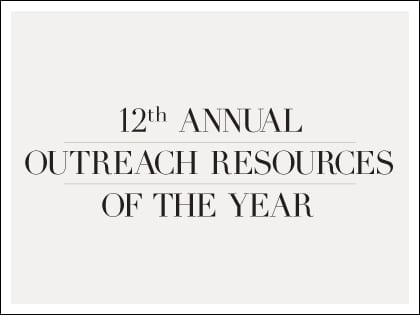 Outreach magazine's 12th annual celebration of the best books and media in evangelism, apologetics, leadership and more.
For the 12th consecutive year, Outreach magazine is celebrating some of the best outreach-oriented books and curricula by honoring them as Outreach Resources of the Year.
The 21 resources chosen to receive the distinction this year are highlighted in the just-released March/April 2015 issue of Outreach, which also includes an interview with David Platt on "Countering Culture with Grace."
The Outreach Resources of the Year aim to highlight valuable resources for church leaders and bring deserved attention to resources that can help churches better engage in effective outreach to share the gospel and reach our communities for Christ.
This year, we reached out to more than 300 publishing professionals, inviting them to submit their best resources published between Nov. 1, 2013 and Oct. 31, 2014. We received almost 170 submissions, which we divided into 14 categories and narrowed to a pool of 113 for review by our 14 panelists selected to evaluate each category. The panelists had the opportunity to choose one or more Outreach Resources of the Year, as well as highlight additional titles as "also recommended."
The 2015 Outreach Resources of the Year are:
Apologetics
Urban Apologetics: Why the Gospel Is Good News for the City
By Christopher W. Brooks (Kregel 2014)
The Case for Christ Answer Book
By Lee Strobel (Zondervan 2014)
Evangelism
Vanishing Grace: What Ever Happened to the Good News?
By Philip Yancey (Zondervan 2014)
Missional Living
Flesh: Bringing the Incarnation Down to Earth
By Hugh Halter (David C. Cook 2014)
Missional Church
Kingdom Conspiracy: Returning to the Radical Mission of the Local Church
By Scot McKnight (Brazos Press 2014)
Culture
Visions of Vocation: Common Grace for the Common Good
By Steven Garber (IVP 2014)
Leadership
Toughest People to Love: How to Understand, Lead, and Love the Difficult People in Your Life—Including Yourself
By Chuck DeGroat (Eerdmans 2014)
Autopsy of a Deceased Church: 12 Ways to Keep Yours Alive
By Thom S. Rainer (B&H 2014)
Cross-cultural
Connecting With Muslims: A Guide to Communicating Effectively
By Fouad Masri (IVP 2014)
Social Justice
Doing Good Without Giving Up: Sustaining Social Action in a World That's Hard to Change
By Ben Lowe (IVP 2014)
Counseling
Preventing Suicide: A Handbook for Pastors, Chaplains and Pastoral Counselors
By Karen Mason (IVP 2014)
New Beginnings
Awakening to God: Discovering His Power and Your Purpose
By Gerard Long (Tyndale 2014)
What's Your Worldview?: An Interactive Approach to Life's Big Questions
By James N. Anderson (Crossway 2014)
AHA: The God Moment That Changes Everything
By Kyle Idleman (David C. Cook 2014)
Christian Living
Misfits Welcome: Find Yourself in Jesus and Bring the World Along for the Ride
By Matthew Barnett (Thomas Nelson 2014)
Biography
Billy Graham: Candid Conversations With a Public Man
By Sir David Frost (David C. Cook 2014)
Children's Outreach
Fire Bible for Kids Devotional
Edited by My Healthy Church (2014)
"Get to Know" Series (King David, Mary, Jesus, Apostle Paul)
By Nancy I. Sanders (Zonderkidz 2014)
Love Letters From God: Bible Stories
By Glenys Nellist; Illustrations by Sophie Allsopp (Zonderkidz 2014)
Youth Outreach
Gods at War (Student Edition): The Battle for Your Heart That Will Define Your Life
By Kyle Idleman (Zondervan 2014)
Alpha Youth Film Series
(Alpha 2014)
Outreach magazine offers the ideas, insights and stories of today's outreach-oriented, Bible-based churches. Founded in January 2003 by church communications company Outreach Inc., Outreach is an award-winning, bimonthly periodical for church leadership. Each year, Outreach publishes the American Megachurch Outreach 100, a special issue in September that features the 100 Fastest-Growing and Largest Churches in America; the Small Church America/Church Planting special issue (July/August); as well as the Outreach Resources of the Year (March/April).
View the panelists for the 2015 Outreach Resources of the Year