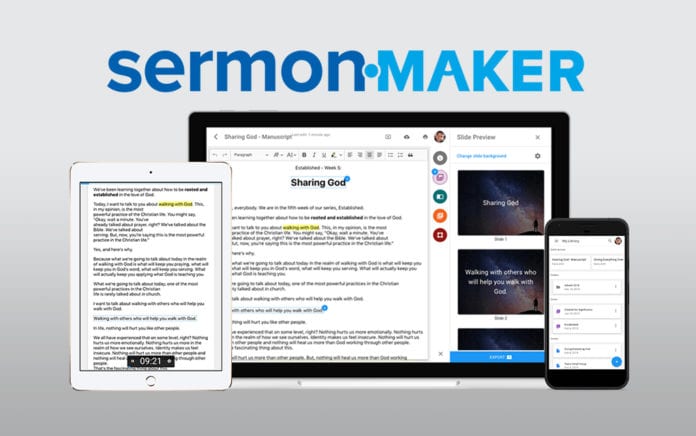 Cut down your sermon prep time with Sermon Maker's elegant interface.
Busy pastors on tight budgets don't always have access to the latest online resources to help them prepare sermons. To meet this need, Outreach Inc., the parent company of Outreach magazine, has launched Sermon Maker, a tool that lets pastors prepare, present and store their sermons.
And it's free.
"We created Sermon Maker for pastors and ministry leaders who want a better solution for writing, organizing and presenting sermons," says Matt Redder, Sermon Central product manager at Outreach. "It's been a joy hearing from folks who are preaching from Sermon Maker and cutting their prep time down dramatically."
Sermon Maker offers a safe place to create, edit and organize sermons that can be accessed anywhere that has internet. Pastors can view their sermon in one panel while finding a Scripture passage in another with complete confidence that every word is immediately backed up.
Other features let users:
• Create a slide from a passage with just a simple click
• Search for ideas, illustrations and inspiration at the same time they are preparing their sermon
• Access sermons on any device
• Prepare sermons using color-coded preaching cues and text sizing
"I think Sermon Maker is great. I have already fallen in love with this app," a satisfied Sermon Maker user recently wrote. "It is a great tool that makes putting God's Word down on paper so much easier. I have praying for such an app for a long time."
"We've been pleased to offer this free software to pastors," says Redder. "We're excited about the future of Sermon Maker."
Learn more at SermonMaker.net.