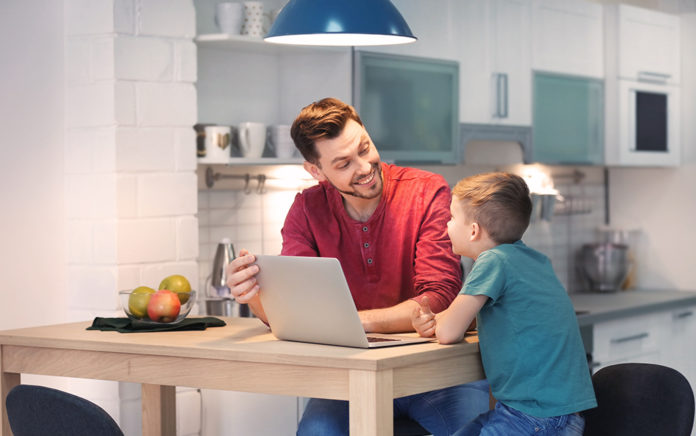 Tips for kid-friendly online services.
While churches are unable to gather corporately at this time, we wanted to give you some ideas on how you can continue to minister to your children and families in their homes. First, we will go through some ideas on what type of content you can send them, then go into some platforms you can use to make this as easy as possible. This can quickly and easily become a great time for your ministry, where you can gain a lot of momentum with your kids, keep them connected to you, to each other, to their families, and ultimately, strengthen their connection with God.
Keep It Short
Our typical children's church services can range anywhere from 45-minutes to an hour-and-a-half, depending on how long your adult church services last. Even if your church usually meets for 45 minutes, this is likely far too long for your children to watch a video. Being in worship and teaching in person is different from watching on a screen, and unless you have some very good production capabilities and can pump out an almost movie-length TV-type show, I'd recommend shorter but with more frequent interactions. Fifteen minutes is maybe the most you'll get from the kids watching at home, so keep that in mind as you create content for them.
Keep It Simple
Keeping it simple for you will allow you to create more content and have more touchpoints with your families. Keeping it simple for them will ensure more of them get to watch, hear or read what you are sending.
Repackage What Your Pastor Is Sharing
A great way to stay connected to your kids and strengthen their connection to what your church is doing overall is to repackage your pastor's message for the kids. Your pastor is probably doing something online as well for the adults, so to watch what your pastor is preaching, then breaking it down into smaller chunks and making it more kid-friendly can be a great way to minister to them.
Break Lessons Up
Take the lesson you were planning to teach on Sunday and break it down into smaller chunks so you can provide the same content but have more frequent contact with your kids. As an example, take the Bible lesson you were going to teach and read it to the kids on video one day. Or act it out for them. The next day you can send them a video of you teaching one of the object lessons. In a typical children's church curriculum, you could take one lesson and quite easily turn it into four or five short lessons for the kids, which means you can connect with them almost daily from only one lesson.
Send Other Ministry Resources
We don't always have to reinvent the wheel, and if creating lots of content is overwhelming for you, you can easily find good resources that other ministries are doing and send those to your families. It's like curating content for the kids to watch. You can then film short little thoughts or questions you want them to answer or something to do, so you aren't replacing yourself with another pastor, but harnessing what that pastor has done and using it to strengthen what you are doing. One of the things we've created as a ministry is our "online kids church." We filmed a short intro, one worship song, and a short teaching, all of which totals 15-minutes of content. We give them a little optional homework that they can share with us on social media if they choose. We also send out little videos throughout the week to stay in touch and "pastor" them a bit more than just sending them videos to watch. This free resource for parents, pastors and kids is available on my website.
Another place to get great content that many kids will watch is from The Bible Project. The videos do a good job of keeping kids' attention while teaching the Bible. You can find them here.
Potential Platforms
It's often best to try and find parents on the platforms they are already using rather than trying to teach them something new. If a new platform is too complicated for them to use, it could limit your ability to stay connected instead of strengthen it. Currently, parents of young children are generally more active on Instagram than other social media platforms. Small, daily thoughts for the parents on Instagram can be a quick way to stay connected to them. If you have older kids you are ministering to, potentially their parents are more on Facebook, so using Facebook and Messenger can provide greater benefit at ease when connecting.
Linktree is a great add on to Instagram in that it allows you to have multiple links in your profile (Instagram only allows one link). You can have links for all your content, for example, each week's lesson. That way if you have videos on YouTube, you can make a short announcement to the parents on Instagram and refer them to the appropriate link. These will also stay up there so families can go back and watch them at any time.
You most likely have the cell numbers of your kids' parents, so texting them brief messages, Scriptures or links to a new video can be a great way to stay in touch. The open rate of texts is far greater than emails, so keep that in mind as you decide how best to communicate to your families. Some communities use WhatsApp all the time, so using it for this purpose won't be a challenge for them. WhatsApp makes it easier to have group messaging no matter what type of phone parents have. WhatsApp also allows you to create broadcast groups where you can have up to 250 people in one group. What's great about this is that when you broadcast a message, it goes out as a group text, but when a parent replies, it comes back to you as a private message. That way, if you have 100 parents in a cell group, their phones aren't going off all day like in a typical group text (and your parents won't get mad about being in a massive group text).
Zoom is a great platform if you want to do anything live, where you could have multiple children or families on one call, and they can all see and talk to each other. Another Zoom feature allows you to break the group up into smaller groups, so if you have some questions for them to discuss or things to pray about, they can do that in smaller groups. Or if you have a lot of children in your ministry with different age groups, you could have all the kids and teachers on one call, teach one lesson, but then break them up into their respective ages, and have a teacher moderate a small group time. This is really a great feature for larger gatherings and teams.