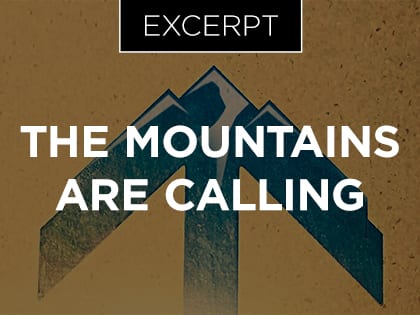 In the Bible, God often chooses to reveal himself to people on mountaintops. Here's what we can learn from that.
Excerpted from
The Mountains Are Calling
By Jarrett Stephens
A few years ago I flew to Colorado to preach at a summer camp for the high school students from our church. As a twenty-eight-year veteran of church camps, I had a pretty good understanding of the summer-camp environment. Some of you who grew up in church know this environment too. For a week, students learn what it means to seek after and worship the Lord without the everyday responsibilities that typically preoccupy their minds and fill their schedules.
I initially thought I'd come to the camp and use some sermons that I had in my preaching arsenal. After preaching at years of camps, I knew exactly what type of messages the students needed to hear: sermons on salvation and holiness, calling the students to revival and away from rebellious living. Why reinvent the wheel? I'd just take a few old sermons, freshen up the illustrations and rehash them to the best of my ability.
But on this particular occasion, I couldn't shake the thought that I needed to do something new. It was as if God were letting me know that old, leftover sermons just weren't going to work, at least not that summer.
As I began to think and pray about the week, I started reading through my Bible and asked God to give me a series of messages that would really challenge and encourage the students to engage with Christ like never before. I wanted God to speak to me and speak to the students in a fresh way. After all, this was camp, and I wanted these high schoolers to leave camp the same way I did all those years I attended as a camper. I wanted them to have a "mountaintop experience" with God.
If you have been a follower of Jesus for very long, you know what I mean by that term "mountaintop experience."
This is what I wanted the students to experience, and this was on my mind as I was flying over the mountains to preach at camp that summer. It was in this moment God led me to begin thinking through and reflecting on my own mountaintop experiences with him through the years. Many of them occurred at a camp just like the one where I was headed. While overlooking the mountains below, I sensed this question stirring in my heart: Why not preach to the students about the mountaintop experiences found throughout the Scriptures?
Now, I am not one who claims to hear the audible voice of God. I read the Bible. I pray. I enjoy listening to the preaching of God's Word and have a lot of friends who can speak godly counsel into my life. Through the years, these are the normal avenues that I have found myself "hearing from the Lord." On that airplane though, the still small voice speaking to me at thirty thousand feet seemed louder than ever. It was a word the Lord was speaking straight to my heart, and it quickly became a quest. I knew what God wanted me to do. He wanted me to take these students to the mountains of Scripture to experience him.
So I started studying the mountaintop moments in the Bible. I began reading every reference to mountains I could find and was blown away by what I discovered. I had no idea how many epic stories of faith that we read in our Old and New Testaments happened on mountains. It seemed that often when God wanted to reveal a truth, command commitment from the people or instruct in a significant way, he would call his prophets or his people to a mountain.
• Abraham was called to sacrifice his son, Isaac, on Mount Moriah and learned there that God would provide for him and meet his needs.
• Moses not only met God in a burning bush on a mountain but was allowed into the presence of God and given the Ten Commandments on top of Mount Sinai.
• Jesus preached his first major sermon not from the synagogue in his hometown or the temple in Jerusalem but on the side of a mountain in Galilee. He modeled intimacy with God throughout his ministry as he broke away from the crowds and went to unspecified mountains to pray. He revealed his glory to his disciples in the Transfiguration on Mount Hermon. His suffering, betrayal, ascension and eventual return all happen on a mountain called Olivet. He gave the church its mission statement from an unnamed mountain in Galilee.
So many of the most important events and teachings of Scripture took place on mountaintops. I was amazed at this truth that I was personally uncovering for the first time.
When we landed in Colorado, I was ready to preach. I just had to decide which mountains I would use to show the students how God worked, how he moved on these mountaintops. The journey we walked together those days in Colorado made for an incredible summer camp.
Through my preaching about the mountaintop moments in Scripture, we had our own mountaintop experiences with God in the mountains of Colorado. And I have returned often to the truths we talked about that week at camp.
For a number of years, I've thought about that series of messages and what God did in my heart that summer. What made it so special? What was it about these mountains in Scripture that seemed to move me and the students to respond to God in the way that we did that week? It was a question I carried for some time.
Ironically, I finally figured out the answer to this question on another mountaintop. A few years ago my family went with some friends to Red River, New Mexico.
Each year my girls enjoy riding a ski gondola up the mountain. On the way down, they like to look into the tiny town far below and try to find the place where we are staying or point out where we will eat ice cream later that evening. It always amazes me how different the view is from the top of the mountain. From the top, the small town looks even smaller. Nature, and by extension God, looks so much bigger. The view from the mountain puts things into perspective.
I believe the same can be said about studying these mountains in Scripture. And I think this is what made that week of camp so unique and memorable. Life comes at us pretty hard, pretty fast and on a pretty consistent basis. But on the mountain, God gives his people a respite. When we encounter him, things change.
Tell me more about this book »
Order this book from Amazon.com »
Excerpted from The Mountains Are Calling Copyright © 2018 by Jarrett Stephens. Used with permission from Multnomah, an imprint of the Crown Publishing Group, a division of Penguin Random House LLC.