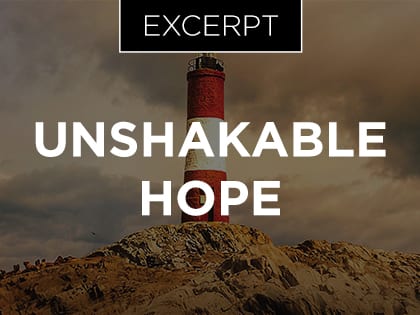 Jesus became a man, so he understands you, but he also is God, so he is powerful enough to carry you.
Excerpted from
Unshakable Hope
By Max Lucado
One April afternoon in 2008, two college women's softball teams played a decisive game. The winner would advance to the division playoffs.
The Western Oregon Wolves boasted several strong batters, but Sara Tucholsky was not one of them. She was in the game only because the first-string right fielder had muffed a play earlier in the day. Sara had never hit a home run, but on that Saturday, with two runners on base, she connected with a curveball and sent it sailing over the left-field fence.
In her excitement Sara missed first base. Her coach shouted for her to return and touch it. When she started back, something popped in her knee, and down she went. She dragged herself back to the bag, pulled her knee to her chest in pain, and asked the first-base coach, "What do I do?"
The umpire knew if any of Sara's teammates assisted her, she would be out. Sara knew if she tried to stand, she would collapse. How could she cross home plate?
You and I have a lot in common with Sara. We have done our best, only to trip and fall. Like Sara, we are weakened, not with torn ligaments, but with broken hearts, weary spirits and fading vision. The distance between where we are and where we want to be is impassable. What do we do?
I suggest we turn to one of the sweetest promises:
"For our high priest [Jesus] is able to understand our weaknesses. He was tempted in every way that we are, but he did not sin. Let us, then, feel very sure that we can come before God's throne where there is grace. There we can receive mercy and grace to help us when we need it" (Heb. 4:15–16).
Theology textbooks discuss this promise under the heading "Incarnation." God, for a time, became one of us. "The Word became flesh and made his dwelling among us. We have seen his glory, the glory of the one and only Son, who came from the Father, full of grace and truth" (John 1:14).
Had Jesus simply descended to earth in the form of a mighty being, we would respect him but never would draw near to him. Had Jesus been biologically conceived with two earthly parents, we would draw near to him, but would we want to worship him? But if Jesus was both—God and man at the same time—then we have the best of both worlds.
Not one drop of divinity was lost in the change to humanity. Jesus may have looked human, but those nearest him knew he was prone to divine exclamations. Every so often Jesus let his divinity take over. The bystanders had no option but to step back and ask, "What kind of man is this? Even the winds and the waves obey him!" (Matt. 8:27).
Some years ago I served at a Bible retreat. Of all the memories of that time, the one I will never forget is the Friday night basketball game.
The idea was hatched the moment David arrived. The attendees did not know he was coming, but as soon as he walked into the room, they knew he was David Robinson. NBA All-Star. MVP. Three-time Olympian. Two-time NBA champion.
Someone asked, "Any chance he would play basketball with us?" "Us" was a collection of pudgy, middle-aged, well-meaning but out-of-shape fellows.
And David, in an utter display of indulgence, said yes.
We scheduled the game for Friday, the last night of the seminar. Fellows who hadn't dribbled a ball since middle school could be seen heaving shot after shot at the basket. The net was seldom threatened.
As David walked onto the court, the ball fit in his hand like a tennis ball would in mine. He carried on conversations while dribbling the ball, spinning the ball on a finger, and passing the ball behind his back. When the game began, David held back. Then at one point he let loose.
With three strides he roared from half court to the rim. The "opposition" cleared a path as he sailed, head level with the basket, and slammed the ball with a force that left the backboard shaking.
That's how the game is meant to be played. We may have shared the same court, but we didn't share the same power.
I'm thinking Jesus' followers might have had a similar thought. No one argued when he declared, "All authority in heaven and on earth has been given to me" (Matt. 28:18). Yet, in spite of this lofty position, Jesus was willing to forgo the privileges of divinity and enter humanity.
Because Jesus is human, he understands you.
Because he is divine, he can help you.
Jesus does for us what Mallory Holtman did for Sara Tucholsky, the girl who tore an ACL during her home-run trot. The fans shouted for someone to take Sara off the field, but she didn't want to leave. She wanted to cross home plate.
Mallory Holtman came up with a solution. "Can I help her around the bases?" she asked the ump.
Mallory played first base for the opposing team, Central Washington University.
The ump shrugged. "Do it."
So Mallory signaled for the shortstop to help her, and the two walked toward the injured player. "We're going to pick you up and carry you around the bases."
They paused long enough at second and third base to lower Sara's foot to touch the bases. The only one who could help did help. And because she did, Sara made it home.
Mallory's message for Sara is God's message for us: "I'm going to pick you up and carry you home." Let him, won't you? You cannot make it on your own. But Jesus has the strength you do not have. He is, after all, your high priest, able and willing to help in your time of need.
Tell me more about this book »
Order this book from Amazon.com »
Excerpted from Unshakable Hope: Building Our Lives on the Promise of God by Max Lucado. Copyright © 2017 by Max Lucado. Used by permission of Thomas Nelson. UnshakableHopeBook.com