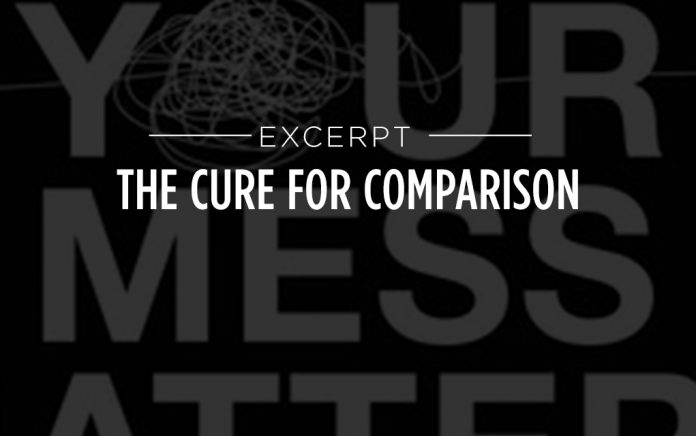 It's hard to throw stones if you're busy washing feet.
Excerpted From
Your Mess Matters
By Luke Lezon
We desperately need love and truth in the world today. Many people do things in the name of love; few people tell the truth. We need to be honest with ourselves before we can get to a point where we are satisfied with who we are in Christ, love whom he has made us to be, and love those whom we compare ourselves with. The solution to our OCD (Obsessive Comparison Disorder) is a tough pill called humility. Comparison is the offspring of pride. It hurts to say that, because I know that this is true of me as well. Saint Augustine said, "It was pride that changed angels into devils; it is humility that makes men as angels."
In his book An All-Round Ministry: Addresses to Ministers and Students, Charles Spurgeon says, "Let us not judge ourselves by others, and say, with deadening self-complacency, 'We are getting on well as compared with our brethren. There are not many additions to our churches, but we are as successful as others.' … Let us measure ourselves by our Master, and not by our fellow-servants: then pride will be impossible, but hopefulness will be natural." In Spurgeon's statement you could switch the word "measure" with "compare," and it would have the same meaning. When we compare ourselves with our peers, it steals our joy, kills our calling and pushes others down so we can stand on their shoulders as we try to satisfy our pride that desires so desperately to be seen. When we focus on imitating Christ, our only response is humility.
"Do nothing out of selfish ambition or vain conceit. Rather, in humility value others above yourselves, not looking to your own interests but each of you to the interests of the others.
"In your relationships with one another, have the same mindset as Christ Jesus:
"Who, being in very nature God,
did not consider equality with God something to be used to his advantage;
Rather, he made himself nothing
by taking the very nature of a servant,
being made in human likeness.
"And being found in appearance as a man,
he humbled himself
by becoming obedient to death—
even death on a cross!"
—Philippians 2:3–8
It's much easier to subscribe to the world's view than the ways of Jesus. The Devil doesn't present you with difficult choices; he presents you with easy ones. The only reason we say temptation is difficult is that our flesh and spirit are at war. If we were following the ways of the world and appeasing our flesh, life would be much simpler. The resistance is what makes it difficult. To follow Jesus is to follow his command in Matthew 16:24, "If anyone wants to follow after me, let him deny himself, take up his cross and follow me." To follow the world is the exact opposite. The world tells us to make our own names famous, soak up the spotlight, push others down to get ahead, leave people behind who stand in our way, and get rich or die trying. I often wonder how hard it would be to be in Jesus' shoes: for the Devil to prowl, tempting me with all the kingdoms of the world, to know that heaven would answer at my call and save me from the cross but to carry out the will of the Father anyway. Philippians 2:9 says, "Therefore [because of his unfathomable display of humility all the way to the cross] God exalted him to the highest place and gave him the name that is above every name." Nobody has gone lower; nobody has been raised higher.
It's hard to throw stones if you're busy washing feet. We'd wash a lot more feet if we quit comparing and throwing stones at others, counting them as more significant than ourselves.
Comparison quickly turns into competition. We want a leg up on the people around us. It's an unhealthy way to try and mask our insecurities and feelings of inferiority. Your success won't look the same as others', and that's okay. We need each other. This journey is hard, the path is treacherous, and we can't endure it alone. We need to encourage and be encouraged. This is about his glory, not ours. Pride compares ourselves with others; humility finds contentment with who we are in Christ. How low do we need to get? Low enough to wash each other's feet. If someone else's feet are dirty, it doesn't make ours any cleaner. When I think about how Jesus hung on a cross for us when we could do nothing for him, how he sees our sin so clearly, yet loves us so much, I can only conclude that imitating his life and embracing humility is a much better way than comparing my life to others' and lashing out in pride. When you find yourself comparing yourself to others, remember this—nothing they are doing and nothing that they have will ever be a better replacement for what Jesus has done for you, who he is to you, and who he has made you to be.
Order this book from Amazon.com »
Tell me more about this book »
Excerpted from Your Mess Matters by Luke Lezon. Copyright © 2019 by Luke Lezon. Used by permission of Zondervan. Zondervan.com.