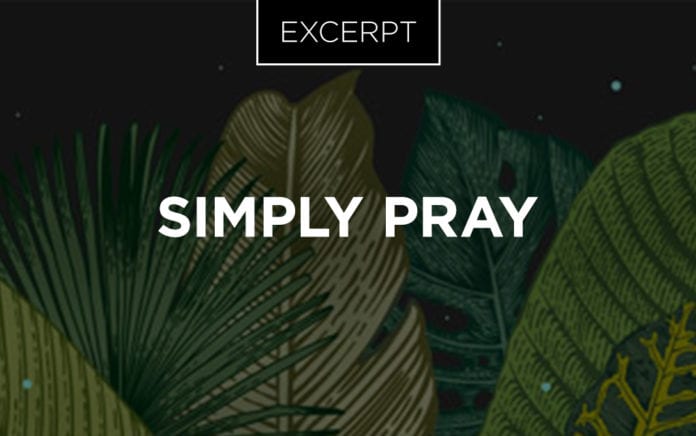 Human beings are designed to be in relationship with the God who created us.
Excerpted From
Simply Pray
By Johannes Hartl
The Secret
Everyone has them, and everyone wants them. Shall I tell you a secret? Who wouldn't answer, "Yes, go on!" It isn't only children who love to have a secret, or to be told a secret. Adults also have areas in their lives about which not everyone is allowed to know. That only close friends can be trusted with, or even no one. There is no life without secrets.
The problem is that not all of our secrets are praiseworthy. There are some things that, deep down, we are not proud of, or even that we are ashamed of. How would you feel if someone could browse through your computer, read your personal journals and watch you in your home? It is generally accepted that everyone has an internal and an external persona. The external is what people can see with their eyes. What you know about a man. What colleagues and neighbors also know. The public self, and the side which we show to others.
And yet, there is also the inner self. That which is hidden from the human eye. Or that only those who know you well can guess. The riches behind the facade, the deeper level beyond the mask. This inner self is more important than the outer self.
Jesus put it like this: "What good is it for someone to gain the whole world, yet forfeit their soul?" (Mark 8:36). Yet what is there in this inner place? Therein a secret is hidden, one that really can change everything. Are you ready?
Here comes the secret: You have a human spirit. Full stop. That's it. And now to explain: I don't mean a ghost or a fairy, but something that only humans have. Animals have an instinct and also a will. Yet in humans there is something that categorically differentiates us from animals and which can't be reduced to biology. Only humans can distinguish between good and evil. While animals can think, only humans can designate something as true or false. And finally, only humans can make art, hang jewelry around their necks or write poetry. Philosophers hold these three special properties together: the Good, the True and the Beautiful. All mankind strives for these three goods; our lives would be terrible without them. Someone who has enough to eat and yet must do wrong, who lives in falsehood and without beauty, will not have a fulfilled and happy life. Yes, a life like that would actually be subhuman. We are not just matter. We are literally "outside the box," because nature and evolution alone can't explain why humankind searches after these things. He does it, because he's made in the image of God. God himself is the source of all goodness, all truth, all beauty. He is the fulfillment of all human searching.
The human spirit has the capacity to know God. To know God? That is just unbelievable! The uncreated, eternal, limitless God? Yes, exactly! And because of this, the secret is so massive. And it gets even better! There is a place in you where you can meet this God. The image which I like best for this is that of an inner garden. In the biblical story of Creation, God puts mankind in a garden:
"The Lord God took the man and put him in the Garden of Eden to work it and take care of it." —Genesis 2:15
The term "garden" was not understood in biblical times to be the kind of mixed landscape of broccoli beds, box hedges and children's swings that we know today. A garden was a luxurious park for rich people, an extremely beautiful place. And what happened there? Very simple: God and man met each other. In a way, our own hearts are like a garden for meeting with God. The problem is that the story of Adam and Eve didn't go well. And in that state, without Jesus, this garden in us is pretty broken and dead. For this reason, not everyone who searches inside himself meets God. Anyone who searches honestly within knows that everything is far from OK. This 'not OK' is what the Bible calls sin. God is a God of love and truth. All in me that is not love and truth separates me from God. In humankind our natural place for meeting God has died. Paul describes it like this: "And you were dead in the trespasses and sins in which you once walked," (Eph. 2:1). Yet whoever invites Jesus to come into his heart and take away everything that separates us from God, whoever truly repents of whatever is sinful in his heart, and whoever believes in the power of the blood of Jesus to wash his sins away, in him something completely new happens. The miracle of salvation. The inner garden begins to bloom. It will be beautiful again.
And here is the deepest secret. That which Jesus has done on the cross, for every single one of us, works not only for when we go to heaven. His blood is pure and beautiful before God. That means God looks at you with a look of joy and wonder. He calls you beautiful. That is the secret. It is significantly more impressive than a pink letter that a teenager gets sent. Because this sender is decidedly more important. If you know you are loved, that changes everything. Life appears in a new light. It doesn't matter what people think. It doesn't matter what you look like. That is a secret that no one can take away.
Prayer is the way to understand that secret, to feel and to learn to live by it. And that changes everything.
Order this book from Amazon.com »
Excerpted from Simply Pray By Johannes Hartl. Copyright 2019. Used by permission. Published by Muddy Pearl.