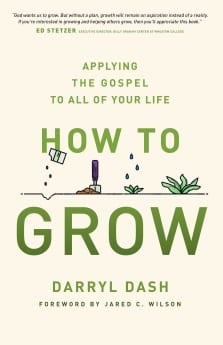 Darryl Dash: Applying the Gospel to All of Your Life
How to Grow
Applying the Gospel to All of Your Life
(Moody Publishers, 2018)
WHO: Darryl Dash, pastor of Liberty Grace Church in Toronto and cofounder of Gospel for Life and director of Advance Church Planting Institute.
HE SAYS: "Spiritual growth isn't about an escape from this world. It's about recovering who we were meant to be in this world, longing for and praying for the restoration of all things."
THE BIG IDEA: Many people feel stuck not just spiritually but in many areas of life. Pastors can use this book to show them they can grow and help those around them grow, but only after they learn how to and begin to practice habits that put them in the path of God's grace.
THE PROGRESSION:
The author has writtenHow to Grow for individuals at different stages of their spiritual walk. He begins with a basic presentation of the good news, then encourages readers to rethink what growth means.
Over the next few chapters, he builds on that foundation by showing readers how they can know what stage they are in, then take the next step.
The next few chapters deal with spiritual practices, starting with Chapter 5, "Master the Basics: Know, Worship, Obey." Next he dives deep into the reason we need to develop habits, three core habits we never outgrow and six practices that will help spiritual growth.
He concludes by talking about how important discipleship is and includes an appendix on how pastors could use this book.
"When the pastor and leaders are growing and mentoring, the Word is being taught, people are practicing the one-another commands, habits are being formed, and people are progressing through the stages, then we can know that we've established a culture of discipleship."
Order this book from Amazon.com »
Read an excerpt from this book »