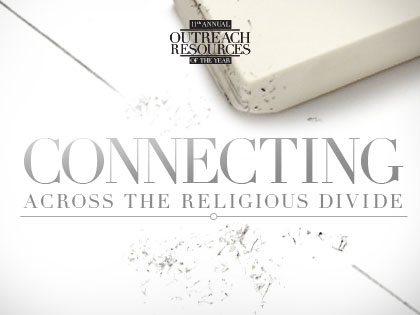 Bob Roberts Jr.: "Are you ready to stop living in isolation as a follower of Jesus?"
Excerpted from Bold as Love: What Can Happen When We See People the Way God Does
By Bob Roberts Jr. (Thomas Nelson)
A 2014 OUTREACH RESOURCE OF THE YEAR
Using All My Faith to Get Out on the Edge
So everyone who acknowledges me before men, I also will acknowledge before my Father who is in heaven, but whoever denies me before men, I also will deny before my Father who is in heaven.
—Matthew 10:32-33
Our church had a tough year in 2010 for several reasons, but one of the things that made it so was our focus on reaching out to the Abrahamic faiths. People were fine with connecting with Jews, but not with Muslims. As I've mentioned, there was a price to be paid: some members left the church because of our outreach to Muslims. Then again, a number of people joined because of it.
At any rate, in 2011 we thought we'd play it slow and light, catch our collective breath, heal from some of the wounds. I'd come to know Zia over the past two years and would stop by the mosque to see him, and he'd drop by our church. We enjoy hanging out together. That was enough.
Still, for the tenth anniversary of 9/11, he and I thought we might do something more to have our two congregations get together. We decided to invite several imams and other Muslim leaders to a meeting at our church in May, along with Christian pastors and leaders. We had about 10 Christians and 10 Muslims come to an organizing meeting. We told them we wanted to do something in our city that kept the tension down between our two faiths. Everyone seemed open to the idea.
I wanted to hold the event on the Sunday night of 9/11. But several of the Muslims didn't like that and wanted to do it a week later. They were afraid; the hijackers had been Muslim. Many said they felt like they were apologizing all the time for what "those murderers" and "criminals" (as they called them) had done. They were tired of that. The conversation moved back and forth between having a single event to having a number of events that could build bridges over the long haul.
At our next meeting, held at the Carrolton mosque, everyone was still interested in the 9/11 anniversary event, to be held on September 18. So, we talked excitedly about what it would take to have three or four hundred Muslims and an equal number of Christians show up. At previous smaller events, relatively few people showed much interest, so I didn't have my hopes up.
As the event drew near, we put posters in the seven or eight churches, and 10 or so mosques. I invited several local area pastors, but I wasn't convinced that many would come. (I've had calls and private meetings with several pastors who said they really wanted to be involved but were either afraid of the Muslims or of people in their own churches.) I didn't push it too hard at my own church other than a few posters and a couple of announcements. I didn't want our people overwhelming the few Muslims I thought were going to show up.
Then things turned for the worse. A local woman with the Tea Party started sending letters to her constituents and the press, criticizing what we were doing. She said it was dangerous, that we were being duped by Muslim terrorists who would eventually try to take over the church.
When I first heard about it secondhand, I thought it was a joke, but when I got a call from a local reporter asking me about it, I knew it was no joke. Later it wound up being discussed on the nationally syndicated Mark Davis talk show on KRLD. I was grateful for his response: instead of passing judgment, he said, people should go and just see. I was hoping that would calm things down.
Still I was worried. Worried that only a handful of Muslims and Christians would show up, and worried that the wrong type of Christian or Muslim would. I asked God to protect us, because I was pretty concerned. How could I ever forgive myself if something happened?
On the morning of the event I made an announcement at church by asking the congregation, "How many of you live near a Muslim? How many of you work with a Muslim? How many of you go to school with a Muslim? How many of you have seen a Muslim in the mall? So why not gather with them tonight and build bridges of friendship?"
After the second worship service, I got a call from one of the imams saying he had more than one hundred people coming just from his mosque. Then another called and said the same thing. That was the first indication that something was up.