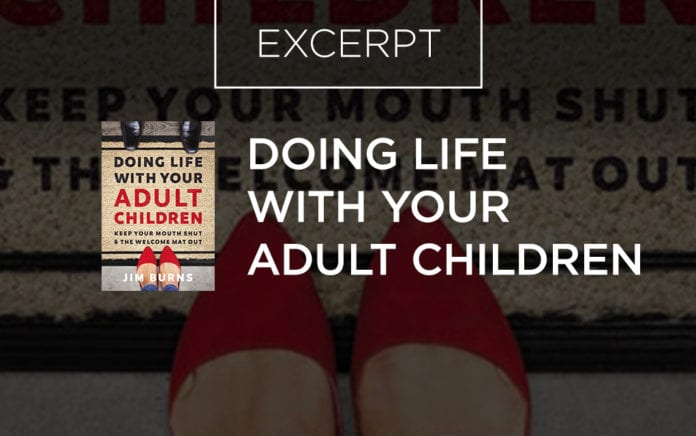 You may not always understand or agree with your children, but here's how to love them.
Whether our children are struggling with a cringe factor issue or a faith factor issue, there's no question that maintaining a healthy relationship with them can be challenging. One moment we think our adult children are coming at us from a different planet, and the next we see glimpses of hope that they are our children after all. Each child takes a unique road to adulthood, but be assured that with our love and understanding, they will stay in relationship with us. Given the changing cultural mind-set, what can we do to maintain a positive relationship while we're in the messy middle? Here are three actions you can take.
1. Meet Them on Their Territory.
You don't have to agree with your children to meet them on their territory. Meeting them on their territory means experiencing the world in which they live and by which they are influenced. One year when one of my daughters was 18, I asked her to take me to a concert of a band she really liked. I must admit, they were really talented musicians. I didn't love everything about the concert and I didn't agree with some of the words coming out of the mouth of the lead singer, but attending the concert did help me understand who was influencing my kids. More than that, my daughter enjoyed the fact that I was in her territory.
Our adult children will rarely turn us down for a dinner out or a fun experience if we keep our opinions to ourselves and just enjoy their company. As difficult as it can be, sometimes it's best to hold back on the parent-to-child dynamic and try to have more of an adult-to-adult experience. Your adult children do look to you for wisdom and guidance, but they want you to see and understand who they are in their own territory.
I know a couple who recently visited their young adult daughter in Washington, D.C., where she was living. They asked her to plan their 4-day visit around whatever she wanted to do and to show them D.C. through her eyes. After the visit with their daughter was over, they admitted they probably wouldn't have chosen the restaurants or sites she showed them, but they considered the visit a success because they had a wonderful time with her and gained great insight into her life. Wise parents.
2. Become a Student of Your Adult Child's Culture.
Just as you likely experienced generational differences with your parents, it is natural to experience generational differences with your kids. For example, I was raised in what was once considered a traditional family—my dad worked and my mom stayed at home. My mom's way of showing love was cooking and caring for our home. My mom didn't even know how to use a checkbook. My dad showed his love to our family by working seven days a week. I'm not suggesting that this was the healthiest way of doing life, but it worked for them. When Cathy and I were married, we shared much more of the household chores, Cathy worked outside the home, and Cathy handled our checkbook. None of my adult children even have a checkbook because they use debit cards and pay their bills online. They live and approach relationships differently than my parents did and somewhat differently than Cathy and I do. To understand why they act the way they do, it's important for each generation to recognize some of those differences.
Our job as parents is not to agree with all the values of our children's culture but to have a greater understanding of how culture influences the way they think and act. A broader understanding of their culture will help us communicate and connect with our kids. Becoming aware of generational differences can also help us discern which battles to fight and which ones to let pass. When we avoid the smaller battles, we have a better chance of dealing with the most important ones.
3. Parent with AWE.
My mom was a character. By the time we had kids of our own, we called her the "party-time grandma." When you were in Mom's presence, you knew you were loved and accepted, even if she didn't agree with your lifestyle. Mom was born in 1922, so she certainly was part of the elder generation, but people from every generation who knew her loved her and were greatly influenced by her.
Mom has been gone for many years now, but I often reflect on the qualities that enabled her to embrace all generations while still holding firm to her moral compass. Over the years, she collected a variety of people young and old, but it was mostly the young who were drawn to her. She laughed with them. She fed them. She listened to their stories and almost always withheld judgment. They loved her and could never get enough of their time with her. When I was in high school, friends of mine would sometimes drop by the house to ask if I was home. If she said, "He's down at the gym playing basketball," instead of heading to the gym to find me, they'd ask, "Can I just come in and hang out with you, Mrs. Burns?" She always welcomed them in and often fed them some delicious dessert.
It wasn't until she died that I fully realized the secret to her influence and the impact of her life on others. It was simple. She parented and related to the younger generation with a sense of AWE. These three letters stand for affection, warmth and encouragement. She showered everyone with love, though not necessarily approval of their actions. She bestowed plenty of hugs and words of affection. She welcomed them with sincere warmth. Her tone and demeanor were loving and accepting. She wasn't a student of the culture—she wasn't very cool and certainly not tech savvy. But the young people she encountered knew without doubt that she loved them. She naturally showed love, and when asked for her perspective, she gave it because she had earned the right to be heard.
Today, I keep the letters AWE on my desk to remind me that regardless of what this new generation believes or does, I can give them a huge dose of affection, warmth and encouragement. And so can you.
Even when there are aspects of our kids' culture we don't understand or can't embrace, we can still move toward developing a positive adult-to-adult relationship. We may have to agree to disagree on certain issues, but that shouldn't stop us from deepening our relationship and investing in meaningful times together. No one said it would be easy, but there is hope for those who persevere.
Tell me more about this book »
Order this book from Amazon.com »
Taken from Doing Life with Your Adult Children by Jim Burns. Copyright © 2019 by Jim Burns Used by permission of Zondervan. Zondervan.com