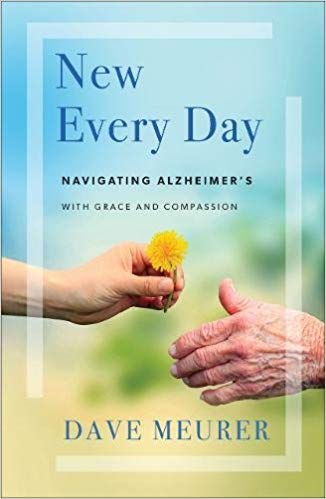 Dave Meurer: Navigating Alzheimer's With Grace and Compassion
New Every Day
Navigating Alzheimer's With Grace and Compassion (Revell, 2018)
WHO: Dave Meurer, author of Boys Will Be Joys.
HE SAYS: "Alzheimer's disease is one of those tragic events that elbows into your life, hurts someone you love, breaks you heart, bewilders your mind, disrupts your plans, impacts your finances, and consumers enormous amounts of time and emotional energy."
THE BIG IDEA: You can navigate the often scary realities of dementia or Alzheimer's.
THE PROGRESSION:
The chapters—which vary in length do not follow a specific order but instead read like a story of a family coping with a loved one who has Alzheimer's. Infused with humor, this book is encouraging, reassuring and informative.
"With Alzheimer's or another type of dementia, sometimes the best you can do is provide peace in the moment. Often we find we can also bring joy."
Order this book from Amazon.com »
Read an excerpt from this book »