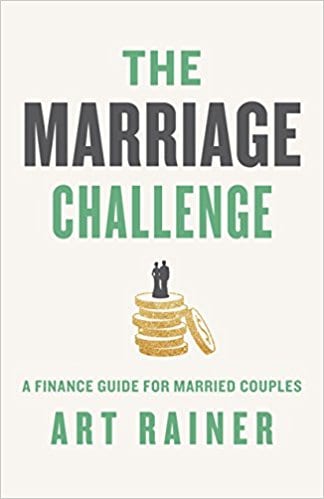 Art Rainer: A Finance Guide for Married Couples
The Marriage Challenge
A Finance Guide for Married Couples
(B&H, 2018)
WHO: Art Rainer, vice president for institutional advancement at Southeastern Baptist Theological Seminary.
HE SAYS: "The collision of marriage and money doesn't have to result in arguments and divorce. The collision of marriage and money can enhance your understanding of why God put you two together in the first place."
THE BIG IDEA:
THE PROGRESSION:
Part 1, "Decide to Be One," lays the framework for the book, showing couples how a their becoming one demonstrates Christ's sacrificial love.
Part 2, "Decide to Chase After God's Design for Your Money Together," digs into practical aspects of money in a marriage—emergency funds, giving, debt, planning for retirement and more.
"Decide to Destroy Marriage Dividers" is the final part. It examines surefire ways to cause dissention in a marriage—poor communication, selfishness, distrust and unrealistic expectations—and talks about how to avoid them.
"Money expectations are your creation. Which means you can also adjust or get rid of them. Put your marriage first."
Order this book from Amazon.com »
Read an excerpt from this book »
A CONVERSATION WITH ART RAINER
What's the end goal, for Christians, when it comes to having a financially healthy marriage?
To be one and advance God's Kingdom. In The Marriage Challenge, much of the content is dedicated to helping marriages pursue financial health. But this is not simply for the sake of financial health.
Financial health in marriage is a means to a much greater, more satisfying goal than financial health. Financial health is a means by which couples can more easily use their resources to impact lives for all eternity.
More than likely, you know a few financially healthy, but miserable couples. How does this happen? Well, being debt free is important, but it is not the most important thing. When financial health becomes the main focus, we can miss out on something much more exciting. We miss out on seeing God use our resources to change the lives around us and around the world. And it is hard to be miserable when you see God using your resources to make an eternal difference.
How do you hope readers grow as a result of reading this book?
I do hope that couples will learn how to experience financial health. In fact, I write in Chapter 4 that I hope they become real millionaires. But more importantly, I hope that these pursuits find themselves under the umbrella of chasing oneness in their marriage and the advancement of God's Kingdom with their resources.