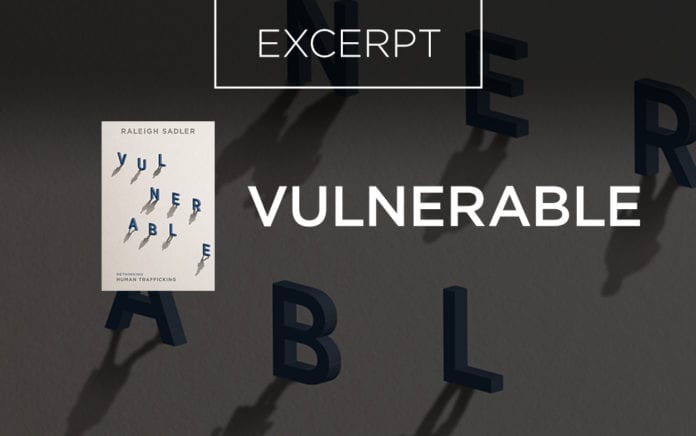 God does not promise that caring for vulnerable people will always be safe, but he is always with you.
I had arrived early to prep for a meeting with my new friend Joy. As the barista poured my coffee, I couldn't help but look outside through the glass doors of the kitschy coffee shop. It was a beautiful spring day in New York City, so when Joy walked in, we both knew what would happen next: We were going to sit outside. With our coffees in hand, we found what appeared to be the least sturdy table in the entire park and promptly sat down. Once we were situated, we dove right in to a conversation.
Joy Attamore, author of Broken by Beauty, began to share how she came to dedicate her life to helping those trapped in commercial sexual exploitation. But as she was talking, we were interrupted.
Out of the corner of my eye, I could see a man with a cane slowly making his way toward us. "Excuse me, I don't want to bother you. I'm sorry, I don't want this to be awkward, but do you have any money that you could spare?" By this point, he was standing right next to the table.
"I'm sorry, man," I replied, "I've got nothing on me." "It's okay," he assured me, "don't worry about it. Again, I'm sorry that I interrupted you both."
As he walked away, I stopped him. "Sir, what's your name?" He was shocked that I would attempt to keep the conversation going. Turning around to face me, he asked his own question: "Are you a Christian? Because only Christians ask me my name."
"Yes, I am a Christian and so is my friend, Joy."
"My name is Jeff and I'm a Christian as well. God has done a miracle in my life." Intrigued, I asked him to take a seat and join us.
"Jeff, would you be willing to share your story with us?"
Over the next ten minutes or so, Jeff shared how one day he woke up in the emergency room. Of course, this wasn't his plan when he began his shift that morning at a construction site where he worked as a contractor. Apparently, he slipped while using a nail gun. The emergency room physician looked him in the eye as he started becoming more alert. "Do you believe in God?"
"No."
"Well, you should. Because of your accident, there is a nail imbedded in your brain, you shouldn't be alive right now, much less understanding the words that I'm saying." As he was discharged, Jeff couldn't shake the idea that God was somehow at work in his life. From that point on, he began going to church and eventually trusted in Christ.
Looking at the two of us, Jeff said, "I don't have much … but I do have a story. I try to tell this story as much as I can to help others."
A Disrupting Pause
God allows disruptions to slow us down and keep us from drifting too far in the wrong direction. As we continue to examine the reality that we are journeying toward a just kingdom, it's a good idea that we pause and reflect for a moment. The problem that many of us face is that as we care for others, we fail to care for ourselves. Tending to allow the weight of the world to rest squarely on our shoulders, we naturally miss the negative impact that working hard for justice can have on us.
Therefore, God has given us a scriptural rhythm in order to slow us down and refocus us. This rhythm of crying out to God reminds us of our inability as we depend on God's ability to bring justice. This act of dependence is a staunch reminder that the world is simply not ours to save.
The idea of petitioning God to alleviate the suffering of others is called a lament. Given that this section is entitled "Recognizing Vulnerability in Scripture," I have couched the next interview within one of David's psalms of lamentation.
Like Jeff, David shares his story to remind others of God's love. If we look at Psalm 41, we will notice that this psalm has an important place in the Psalter. It's the last psalm of the first section of Psalms. Here we find David looking back over his life. He knows how God blessed him as he cared for the poor. He also remembers his own pain and poverty and how God met him in the middle of it. In this psalm, David lays out a paradigm for lament.
A Call to Help
In the first three verses, David reminds us that we are considered blessed as we consider the needs of the poor. "Blessed is the one who considers the poor." For David, the word consider doesn't mean mere mental assent, but practical help. He is saying that we are "blessed" as we get our hands dirty loving vulnerable people. David continues "in the day of trouble the Lord delivers him; the Lord protects him and keeps him alive; he is called blessed in the land; you do not give him up to the will of his enemies. The Lord sustains him on his sickbed; in his illness you restore him to full health" (Ps. 41:1–3).
What David is saying here is counterintuitive to everything we know from experience. Naturally, we feel that we can only survive if we protect ourselves and our families from those who would threaten us or our lifestyles. But notice what David is saying: Your protection doesn't fall on you. Because of God's grace, you are now freed from the incessant need to protect yourself, and are set free to protect others. As we turn our focus from ourselves, we will be able to focus on the needs of others.
As Jeff walked away, Joy and I were in complete story-telling mode. So she picked up her story from where she had left off. As a child, her family moved to the Red Light district of London. Having experienced the radical grace of God, her parents felt the desire to share it with those in need—specifically with pimps (sex traffickers), sex buyers and prostituted women.
"It wasn't out of the ordinary for us to invite pimps and prostituted women to share a meal with us," she explained. …
When I asked, "Were you all ever scared?" She looked me square in the eyes and pointed at me.
"If you are going to be able to do what God has called you to do, you have to trust that God will protect you and your family."
This protection is what the blessing in Psalm 41 looks like in real time. In moments of uncertainty and danger, we can trust that God will deliver us. But in some cases, we will suffer. When we care for vulnerable people, we are taking a risk. It may end badly for us—there are no guarantees. But that shouldn't deter us from loving people. The psalmist wants us to know that even when we experience the sum of all our fears, God is still blessing us. Because like David on his sickbed, God will sustain us when we suffer.
Tell me more about this book »
Order this book from Amazon.com »