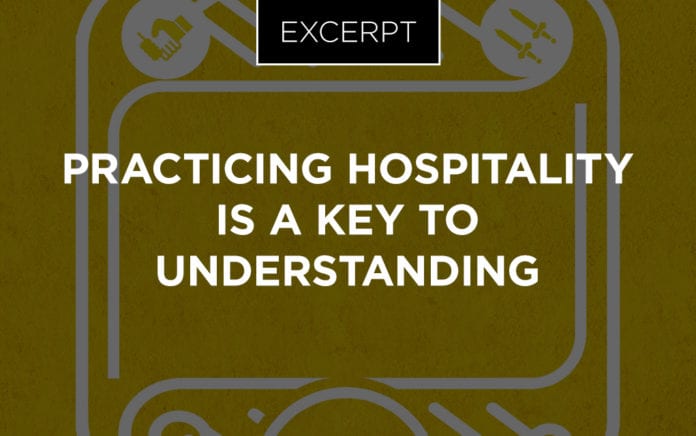 Hospitality is the key to developing an appreciation for and celebrating members of all ethnicities as bearers of the image of God.
Excerpted From
Woke Church
By Eric Mason
From the lack of diverse racial representation in superheroes stories to Christian movies to homeschooling curriculum, there is a pressing gospel need to demonstrate the dignity of each individual.
My oldest son is a great artist. He began sketching at a pretty young age. I noticed that his characters were always white, even when he created superheroes. I finally asked him, "Son, what color do you wish you were?" He said, "White!" As we worked through this issue, it was obvious that he had been impacted by the images of whiteness that he had experienced over the years. From that point on, my wife and I wanted him to experience both positive black images and global culture as he grows to love the person God created him to be.
Imago Dei must become a key part of the foundational biblical and gospel education for all believers. Just as the Jerusalem Council clarified the issues that were to be foundational Christian education and practice for Gentiles, so the Western church needs to value people as created in the image of God. That should be core to our teaching. We need to constantly remind ourselves that, because of our history in this country, we often don't readily see that we are all created in the image and likeness of God. As we teach creation, fall, redemption and consummation, we must zoom in on human dignity in the creation section of the classes and discipleship. We must repent of the teachings that the church has overtly and covertly communicated about blacks in the narrative and theology of American history. Because there was Christian participation in creating false doctrines about black humanity, we must have open dialogue and repentance about this until these false ideas are eradicated from Christianity.
Tony Evans engages this well in Oneness Embraced:
"On one side, I was being told that I was created in the image of God and therefore had value. On a pragmatic basis, however, it appeared to me that the benefits of possessing that divine image were reserved for white people because it seemed that they were the real benefactors of God's kingdom on earth."
This sentiment cannot be the sentiment in the church. In our membership classes, theological education, disciple making, pastoral search committees, we must emphasize God-given dignity.
I encourage majority-culture churches to find an ethnic minority church in your region, and humbly say to them, "We want to come to the table. We want to understand what's going on." We increase our racial IQ by getting around people that can help us with that. Time can be spent bringing up issues that have happened in the culture and sharing with each other how those issues impact our communities. It's important to share with one another to hear our stories. But I would also say that we don't build relationships with one another in order to have a mission field. You build a relationship with a person because you want to know them, love them and do life with them … and out of that can come healing. This is best experienced in the context of hospitality on both a corporate and individual level.
Hospitality is a major tool to build an environment of relationship and understanding. God has created a people from all people, and therefore, expects us to function accordingly. I have experienced this on many occasions. Whenever this happens, it usually proves powerful for all those who are involved in the experience of hospitality as we hear one another's stories and understand why we are where we are today.
On one such occasion at Harvey and Rachael Turner's home in Reno, Nevada, they invited a group of leaders from all over the globe for dinner. There were European and non-European whites, African Americans, Latinos and Asians present. By the fire pit that night, we had amazing conversation and were able to all grow an inch or two closer by just being together as brothers and sisters in Jesus listening and learning from one another. We laughed, cried, yelled and whispered all evening.
Days after that time together we all affirmed that it was one of the most helpful times we had ever experienced as we talked through issues. To hear about race in Ireland and Scotland and the Latino community and in the African American experience was amazing. We learned so much from one another and have continued the dialogue since then. Rachael will randomly text my wife about what she's up to and how it is affecting her view of the racial issues in America. Harvey has made significant adjustments in his church through staffing and church planting.
The church at large should always have a learning disposition—learning about our communities' needs, thinking, brokenness, strengths, cultural make up, challenges, communication, media habits, etc. Many churches have died because of the lack of foresight to break through the walls of their building to meet and engage the people they drive and walk past week after week. At Epiphany, we have many people that live in the community going to the church, but we also have many from the city and surrounding region.
In light of this, as a pastor, I don't assume anything. I know that I must be constantly working to remain aware of what is happening in the neighborhood and throughout the surrounding community.
Our church has done this through our prayer walks. We use the first Sundays of the month to venture into our neighborhood to pray, learn and share the gospel. We have been able to deepen our heart for our community just based on these regular interactions to build awareness.
When I train leaders in urban environments in particular on this, they are blown away at how much they see when they are out on their feet, beating the pavement instead of driving. Walking slows you down, and you have to face people eye to eye. Yes, we have been cursed out and threatened before, but overall people are very surprised that the church would even attempt to hear from them.
Tell me more about this book »
Order this book from Amazon.com »
Excerpted from Woke Church: An Urgent Call For Christians In America To Confront Racism And Injustice by Dr. Eric Mason (©2018). Published by Moody Publishers. Used by permission.