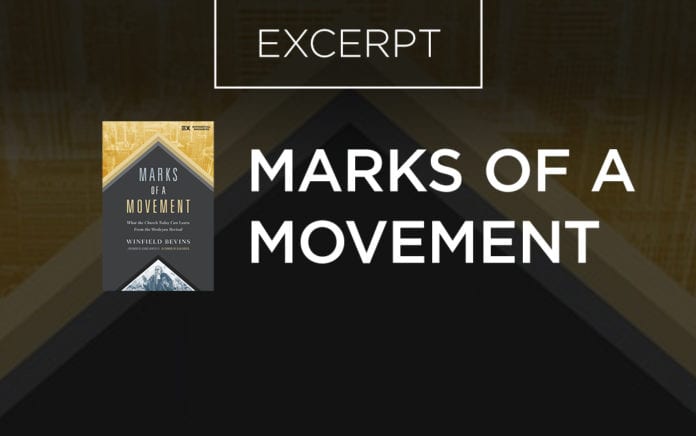 Wesley had a knack for equipping the average lay person to grow into an independent leader.
Excerpted From
Marks of a Movement
By Winfield Bevins
As we have already noted, John Wesley was a master organizational leader. With George Hunter, I would affirm that "the day for John Wesley's strategic wisdom is not over, for many of his principles have perennial validity. As Wesley the 'strategic genius' is rediscovered, he will become one of the strategic fountainheads of the Christian movement facing the 21st century." As we conclude this chapter, I'd like to offer a few personal reflections on Wesley's leadership genius and how they apply to disciple makers and church leaders everywhere.
1. Model the Way Through Your Own Leadership.
One reason Wesley had such a lasting impact on his followers is that he embodied what he taught and called others to—a radical commitment to Christ and the Methodist cause. He modeled this by his lifestyle, which matched his preaching. Steve Addison notes: "Wesley was able to inspire commitment to the Methodist cause because he embodied that commitment." He was a true leader of the people, traveling thousands of miles on horseback, preaching to and teaching the masses, yet still finding time to regularly meet with leaders across the country. They saw how he lived out his faith in the real world. For Wesley, there was no distinction between a private and a public faith. He walked with his leaders, he prayed with them, he fed the poor among them. He lived the life he sought to reproduce in others.
As leaders, it is important that we practice what we preach, because the people we are training will look at how we live and follow our example. As important as it is to preach the gospel, we must also practice it daily. Wesley knew that a leader's personal walk with God is one of the most important factors in his or her ability to develop godly leaders. We will reproduce what we are, and the most powerful message preached is a life on fire for God. So make sure the life you are living is one worthy for others to follow. Although none of us is perfect, we should strive to be present in the lives of the people we are seeking to develop, modeling the way through our lives and leadership.
Practically, we should look for ways to schedule time with the people we want to disciple outside of normal church functions. This time can include times of play, prayer and sharing meals together. As with any worthwhile investment, discipleship will cost you something. It will take a sacrifice of time, energy and emotion for the sake of others. I believe this is one of the reasons why discipleship does not happen very much in churches today. The cost is high. But this is a price we must pay if we are going to build healthy and thriving churches that serve the Lord faithfully.
2. Begin to Develop a Leadership Pipeline.
A leadership pipeline is an intentional system or structure that trains and equips people to become leaders. Wesley developed his leadership pipeline beginning with an individual attending class meetings and gradually progressing to the highest levels of leadership in the Methodist movement. The class meeting was where it all began, as that was where an individual's gifts were identified and began to be used in ministry to others. If a person was faithful to serve others in the class meeting, they continued on their way through the pipeline, eventually becoming a leader of their own class meeting. Wesley was constantly identifying, training and appointing leaders who showed giftedness for ministry and were faithful in the work of preaching, teaching, evangelism or helping with administration and the stewardship of finances. Wesley also appointed indigenous leaders who were raised up in local community. Who better to minister over a class meeting than a member of that community?
The early Methodist leaders were men and women of piety, and as Wesley empowered non-ordained leaders, the movement continued to multiply, growing rapidly throughout England. Wesley chose his leaders carefully, handpicking them according to the gifts they demonstrated. He took his time and was quite serious about this. In a similar way, we must learn to be selective with whom we choose to disciple. We should look for people who are faithful, willing and able to progress and grow in their discipleship. Discipleship does not require earning a degree or a Bible college education; it simply requires obedience and an investment of time and energy. Often, the leaders we need are ordinary men and women—including people who are already in our churches. One of the best places to find new leaders is to look at the faithful women and men leading your church small groups. We should seek to find men and women who have a passion and a hunger for Christ, because willingness to answer the call to follow Jesus is the only requirement to be a disciple of Jesus.
As a contemporary example of a leadership pipeline—one that resembles Wesley's own method of raising up leaders—I've learned a great deal from the work of Seacoast Church in Mount Pleasant, South Carolina. Pastor Greg Surratt says, "Most of our pastors come from high-producing volunteers." In order to provide maximum development and empowerment to its volunteers, Seacoast has created its own leadership pipeline. Like Wesley's pipeline, the process begins with involvement in a small group. If faithful, a group member can go on to become a small group leader, rising to the level of small group coach to other small group leaders. Growth continues, leading to a transition from being a small group coach to becoming a ministry leader, until a person becomes a licensed minister and, eventually, a pastor.
3. Empower Others According to Their Gifts.
Wesley knew that everyone has different gifts, and that such gifts have been given for different works of ministry. He would ask of those who came to him, wanting to preach, "Have they the gifts (as well as the grace) for the work?" Upon reflection and after consulting with others, he sought to assign leaders to serve according to their giftedness. The Methodist structure was designed to allow people with different gifts to use those gifts at the appropriate place in the organization. D. Michael Henderson notes that "instead of trying to produce leaders, the Methodist system allowed the natural ability of its entire population to rise to its highest potential." Wesley developed his followers by delegating ministry responsibilities to those who showed a passion for ministry, and if they were successful with the work given, they were entrusted with even more responsibility. Eventually he would send them out, giving them ministry responsibilities with greater challenges where failure was a real possibility. He believed that hands-on experience was the key to leadership growth, and it was a vital part of his discipleship curriculum.
Sadly, some church leaders today are either afraid or unwilling to give people significant roles with significant responsibility. Others fail to provide opportunities for service on a regular basis. It is possible for a leader training for pastoral ministry to spend years in classrooms attending college and seminary, only to graduate with little, if any, real ministry involvement. The church today needs to rethink how it structures ministry around mission and how to best delegate and empower people according to their gifts. Is it any wonder our discipleship is often anemic? Many followers of Christ today still believe it is the job of the pastor to do everything in the church. We must never neglect the importance of involving and empowering lay people in ministry.
4. Understand the Need to Provide Ongoing Support.
Wesley never appointed people to a task without providing some type of ongoing support and supervision. He supervised his leaders and created structures for them to report on the state of their faith and their ministries. This gave his leaders an opportunity to reflect and review their ministry progress. He offered additional support by providing opportunities for local preachers and leaders to meet together annually and mutually encourage one another.
Supervision and support are essential components of leadership development, especially when training new believers. As important as it is to delegate the work and empower people to act, we must also be available to supervise and support them, making sure they stay on track. Without proper supervision, a new leader can easily crash and burn at the first failure. Supervision is an art that requires balancing the tension between micromanagement (watching too closely and failing to empower and release them) and a lack of supervision (not being available when there are questions or help is needed).
Tell me more about this book »
Order this book from Amazon.com »
Excerpted from Marks of a Movement by Winfield Bevins. Copyright © 2019 by Winfield Bevins. Used by permission of Zondervan. Zondervan.com.