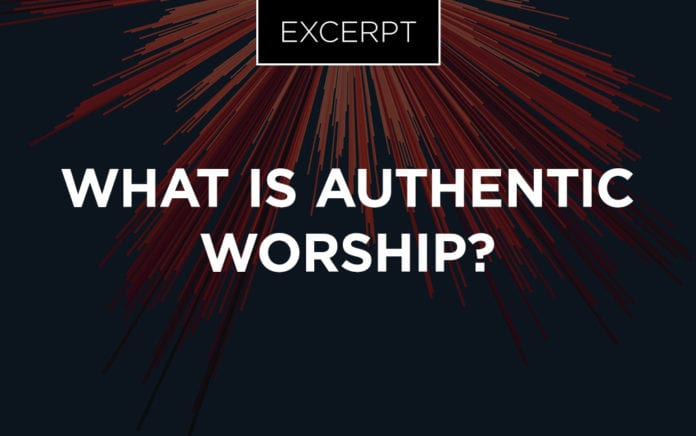 Understanding authentic worship goes beyond a theological exercise or musical styles.
Excerpted From
Worship Essentials
By Mike Harland
In his book Primal, Mark Batterson quotes Oliver Wendell Holmes: "For the simplicity on this side of complexity, I wouldn't give you a fig. But for the simplicity on the other side of complexity, for that I would give you anything I have."
Basically, as Batterson explains, Holmes is calling out simplicity fueled by laziness or ignorance. "I don't know because I don't want to know." But he is also calling out our natural tendency to complicate things. Over time, we add rules and procedures to just about everything and eventually complicate things to the point of making them barely recognizable.
Additionally, Holmes seems to be expressing his admiration for simplicity on the far side of complexity. That is, a simplicity that is informed and matured by the process of becoming less complex. This is a simplicity that once was complicated, but in the search for authenticity has deliberately become simpler.
Our worship is no different.
For example—a person starts out on a faith journey. He could easily begin by wrongly assuming his worship is what endears him to God. He reads the Bible because he has to in order to stay in God's good graces. He gives, witnesses, signs up for mission trips and sings every song because he is supposed to. He prays, but only when he needs something from a benevolent Father. Deep down, his worship becomes increasingly complex—a growing list of dos and don'ts that follow him around in his spiritual appointment book.
Then, his wife gets cancer. After the initial shock wears off, he is left with a complicated yet immature belief system. He keeps doing the same things but somehow feels betrayed by this God he is worshipping. He comes face-to-face with the fact that he doesn't know this God he praises very well.
One day, he realizes none of the things he has been doing seem to make a difference. In desperation, he goes to the Scripture in this state of mind, but no longer to put a check mark on his "To Do" list. This time, he goes in complete humility out of hunger. "God, I need to hear from you." He prays, but not the perfunctory prayers he has recited all of his life. Now, he pours out his soul to a Father who loves him. He sings, but not to hear his own voice—rather, to be heard by the only One who can step into the trial he is facing. He worships, not because anyone is watching or listening, but because his heart will explode if he doesn't open up his mouth.
As the Good Shepherd carries him through the valley of the shadow of death with his wife, his walk with God loses the complexity of religion. And with this newfound simplicity, his worship becomes real.
Some realities have to be experienced to be understood.
I knew a few things about being a father just by watching my dad. The sense of responsibility, the authority that comes with that responsibility and the ability to make decisions for your family and children, were all things I observed about fatherhood growing up with a great dad.
But when I became a father, the whole thing changed. I knew I was supposed to take care of my children—but I had no idea how badly I would want to until the first one was born. I knew I would love them—but I didn't know I would love them more than life itself. I understood that Teresa would be my partner in parenthood—I didn't understand how the two of us would literally become one in our parenting, a bond that continues to grow till this very day.
In a similar way, understanding worship goes beyond theological exercise, though it surely is theological. It exceeds musical accomplishment, though the use of music in worship is certainly God's gift to us of an outward way of expressing our praise. It transcends any particular music style or approach, and I'm convinced the Bible demonstrates that in a very interesting way.
Think about this.
In the Psalms we are fortunate to have a number of superscriptions from the original texts that provide insightful details. A few describe the setting of the psalm, like Psalm 34 that has a superscription that reads, "Concerning David, when he pretended to be insane in the presence of Abimelech who drove him out, and he departed." Now we can read the psalm with a little more understanding of what it was about—like today when a songwriter explains why a song was written. People love "song stories."
The superscription of Psalm 45 intrigues me and leads me to a question. It reads, "For the choir director: according to 'The Lilies.' A Maskil of the Sons of Korah. A love song."
According to The Lilies? What does that mean? Well, it seems the original performance of this text was associated with a particular tune called The Lilies.
What in the world did that sound like? Some have given themselves to try and understand, but in the end, we really don't know.
Here's the point—if the sovereign God of the universe preserved the text of this psalm, as well as the whole Bible—and I certainly believe he did—why didn't he preserve the tune?
He could have. God could have given us the exact music to be performed. Think of all of the arguments we could have avoided if God had just handed us the appropriate music setting for worship along with the Scriptures.
After thinking about this for a decade or so, I've come to this belief: Perhaps one reason God didn't preserve the tunes was so each generation could join him in creating the music. One of his divine attributes is his creativity, and since he made us in his image, we, to a lesser degree, have that same attribute. God has allowed us to express our own creative nature as we have composed the songs with him down through the ages of the church. And think about how much the music has changed. Each generation has found its own tunes and its own way of expressing his word and our worship response in song.
The tragedy would be if any particular generation came to believe they were the one that landed on the final melody. God gives every era of believers their own chance to add to the music. What a wonderful gift that is to us! We have the joy of adding our own expression to the song of faith!
When we read Revelation 15, we are struck with an amazing reality—one of the songs sung in heaven will be one that was written by one of us—Moses (Rev. 15:3). That tells me that our Creator God has invited his creation to create music for the purpose of worship.
As we come alongside God in creating that music and creating a healthy, biblical culture of singing and worship in our churches, there are some core values we must keep in mind.
The great news about a list of the essentials of a healthy, Bible-centered worship culture is that the list is very short. In other words, with God's help, we can do this.
Tell me more about this book »
Order this book from Amazon.com »