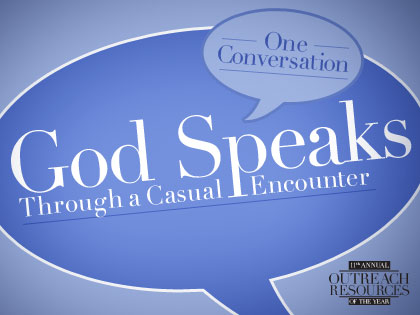 Holly A. Melton: "We need to be willing to ask the Holy Spirit to guide us when it comes to sharing the story of the gospel."
Excerpted from Follow My Lead: Responding the God's Voice in Everyday Encounters
By Holly A. Melton (Regal)
A 2014 OUTREACH RESOURCE OF THE YEAR
THE DEATH OF MY BEST FRIEND
I have traveled to more than 25 countries, asking people of different cultures, backgrounds and ages what they desire most in life. Whether they live in North Africa, the Middle East, East Asia, Europe or the United States, the answers are very similar. Some people dream about fame and fortune. Many more people express a desire for peace and freedom. But the answer I hear over and over again, stated in various ways, is that they want to be fully known and fully loved. They long for someone to know them intimately—to know their good and their bad—and still love them deeply.
How can it be that such a global desire seems to be a mystery to find? I believe it is because those who have found it and experienced it have not shared their story of being known and loved by God.
There are stories that just must be told. Throughout the ages, certain stories have been passed down from generation to generation. Even as times change, these stories continue to bring hope and joy to our lives. Our own personal stories should be stories that must be told, especially when we have found the source of unconditional love and acceptance. Sometimes we receive the greatest joy when we tell the stories that need to be told from our own lives.
I am convinced that presenting Jesus in the story of our lives can be attractive to any people group of any culture, at any time. I am not saying that every person, at any moment, wants to hear our story, but we need to believe that our stories about Jesus have supernatural power to impact the hearts of the people around us. We need to be willing to step out in faith; we need to be willing to ask the Holy Spirit to guide us and practice thinking outside the box when it comes to sharing the story of the gospel and the impact it's had on our lives.
Journey to the Far Side of the City
I lived for two years in a small, East Asian city of 5 million people. I visited college campuses all over the city to engage with college students. I had no clue how my story of faith could connect with students who have been taught by their government that there is no God. Where does one start the conversation when the person doesn't even know she can think about believing in a higher power than her government?
As my roommate Elsa and I left our apartment and journeyed on a bus to a campus on the far side of the city, we prayed for three things: for the Spirit to give us his wisdom what to say; for courage to step out in faith; and for him to connect us to people whose hearts were open to hearing the gospel.
As our bus traveled to the outskirts of the city, the land became barren and desolate. Outside the high walls of the campus, we saw no homes, stores or restaurants. Thirty thousand students lived within those walls, with nowhere else to go and nothing else to do. This campus was opened only six years ago, but as we entered the gates to the campus, we saw that the new buildings were covered with dust from the continual construction.
It was around 2 p.m. right after their nap time, and most students were heading to their classes. We walked around the dusty grounds, praying that we could find a student who would want to engage with us about their school, their life and, ultimately, the gospel.
As we walked against the flow of students leaving their dorm rooms for class, we felt like salmon swimming upstream. My mind started to flood with doubts: Maybe we should come back another day? Maybe we should just prayer walk instead of looking for people to talk to. But I pushed those thoughts to the side, and we pressed on. We asked the Holy Spirit, again, to show us some women we could talk to.