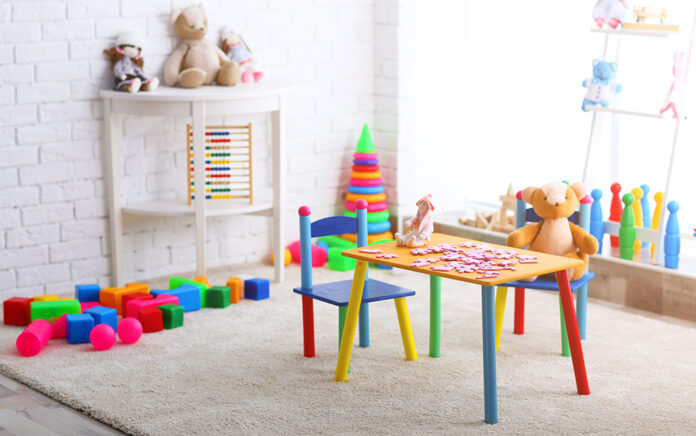 It Is Time to Reevaluate Your Children's Ministry Area
When it comes to children's ministry, Orange is known for its curriculum that emphasizes the importance of combining the influence of both home and church to teach children the Gospel. Orange also thinks broadly about how children and families experience church as a whole.
As a Design-Build-Furnish firm, we value collaboration and learning, so recently I attended the local Orange Tour stop with fellow Aspen interior designer, Kristen Freeman, where we learned more about how design can help support children's ministry.
Here are three design shifts that are happening now in kid's ministry:
1. Embrace Change
In kid's ministry, change is bound to happen, whether it's every 5-10 years or 5-10 minutes! So as interior designers, we're starting to think through what that means for spaces and how we can design them intentionally so they can be modified easily. Here are some ways we're designing spaces with change in mind:
• Including furniture and technology for both kids and adults.
• Utilizing magnetic graphics that can be switched out quickly.
• Keeping palettes neutral so by removing or switching out a few key elements, the space can be completely transformed. 
2. Bring Generations Together
The design of interior spaces can also help bridge the gap between older and younger members, and all ages in between. Bringing generations together has been a theme that Orange has invested in for some time.

Some of Aspen's recent designs have focused on solving the problem of people being isolated by age groups. Solutions include providing appropriate seating for all ages together in family rooms or lobbies, so all age groups can remain together.
Adding subtle family elements in a lobby space can also invite all ages to enjoy spending time before or after a service with others. 
In one recent example, our designers designated an area for stroller parking, sending a strong message that children are welcome, families are welcome, and the church is prepared to make it easier for busy parents on Sunday morning.
3. Design Spaces with Programming in Mind
If your children's programming has changed since the last time you refreshed your space, it may be time to consider whether the space is still working.

Does the classroom set-up encourage the type of learning you want to see? Are seating options conducive to the activities that the children will be doing? Here's an example of one classroom with two different seating options:
The design of your space will influence both function and culture, so it's important to make sure there's alignment with your church's mission, goals, and audience.
Keeping up with the latest trends and shifts in kids ministry programming will help guide how your spaces should be designed.