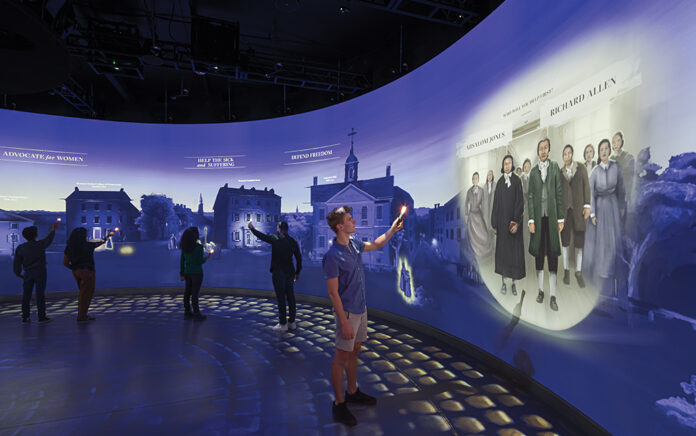 Philadelphia museum traces the role of faith in our nation's founding
Faith and culture have played both complementary and contrasting roles in our society, both in the past and in the present.
For much of the world's history after the establishment of the church, communities of faith led culture. From Jacob's well to Gothic cathedrals, community congregations to multisite megachurches, the church has informed many aspects of our cultural evolution.
The church was once one of the foremost drivers of cultural and artistic innovation. And for centuries, the church was the center of the town square—both a trusted pillar of the community and a creator of community.
In recent history, however, secular culture has come to influence the church. And we find that churches now look to reflect rhythms of the outside world in order to fit into today's culture and attract younger generations.
For decades, I have been a proponent of churches taking back the town square and being reborn as influential innovators in art, music, design and thought leadership. Just as in the past, I believe it's possible for communities of faith to inform culture once again through Scripture and faith.
So how can modern-day Christians reclaim that heritage of masterful creativity that drives innovation? First, we must reconnect with how past generations made that possible. 
Faith and Scripture 
If we look to the history of the United States, we can see how profoundly faith and Scripture shaped the founding of our nation. Although imperfect in their execution, the biblical standards on which America was based provided a powerful point of reference for its people.
Many American founders were people of faith, and vocally so. Their faith manifested itself in the fabric of the society they aimed to create. For every generation since, it has been crucial to revisit the biblical principles at the heart of our founding, leading the nation back when we stray from those values.
Philadelphia, Pennsylvania, is the home of numerous historical landmarks that commemorate the nation's founding. It's also home to American Bible Society (ABS), a nonprofit organization that seeks to increase engagement with the Bible in a way that draws people closer to God and others. The Faith and Liberty Discovery Center (FLDC), initiated by ABS and located on Philadelphia's historic Independence Mall, highlights the impact Scripture has made on America.
ABS, an interdenominational Christian organization, was founded in 1816. Some of its early members include historically recognizable names such as Francis Scott Key and John Quincy Adams. It began as an organization dedicated to putting Bibles in the hands of as many Americans as possible, distributing Bibles to the military, the blind and even Pony Express riders.
Additionally, ABS was at the helm of early Bible-based TV and radio programs in the U.S. The organization has reached into international and digital realms, offering access to Scripture worldwide.
The Heart of America's Founding 
FLDC was established as its own initiative alongside ABS. It's an immersive, educational and technology-driven visitor attraction that's naturally positioned as a way for visitors to connect the history of America's founding with its biblical influences.
Prior to joining our team, Matt Ferguson, chief innovation officer at PlainJoe: A Storyland Studio, worked with ABS to help bring FLDC to life.
"ABS wants people to realize that the Bible is actually an essential document to the 
founding of America," Ferguson says. "It impacts not only history, but culture today."
He played a pivotal role in helping to brand the center, ensuring that it appealed to a broad audience regardless of faith or background.
Visitors come to Philadelphia because they want to understand American history. By starting at FLDC, they'll understand more of the story. When they walk over to Independence Hall, they'll understand that sessions of the Continental Congress opened with prayer. When they can see the Liberty Bell—emblazoned with a verse from Leviticus—they'll understand its significance.
Philadelphia's rich history and faith heritage make it a key location to help visitors draw direct connections between the founders, America's origins, and the idea of religious freedom that drove them. 
"People's faith led them to the idea of religious freedom because so many people had come to America to escape persecution," Ferguson says. "William Penn established Philadelphia as a city of brotherly love where people of all faiths could gather and worship according to their convictions." 
An Interactive, Technology-Driven Experience
According to Ferguson, FLDC is one of the most interactive museums ever created.
"FLDC is the inverse of many museums in that it's 90% technology with some artifacts sprinkled in, and it tells the story of how the Bible has impacted America," he says. "It's designed to be appealing and relevant to anyone, whether they're a person of faith, another faith or no faith at all."
Visitors explore galleries featuring interactive multimedia, film, artifacts and more. They begin the journey through the museum with a handheld lamp that responds to each exhibit. Each visitor can "collect" bits of information that they're excited about, which they can revisit after their tour has ended.
In addition to the interactive exhibits, visitors can reflect on their own or in a communal space. This presents the opportunity to forge new connections among people of all backgrounds as they reconnect with—or even discover for the first time—the role of faith in the fabric of American culture.
Those who want to experience more of Philadelphia's history alongside FDLC can download and use the Faith and Liberty Trail App (FaithAndLibertyTrail.org) to explore historical walking paths around the city. Accompanying stories within the app take visitors on a deep dive into the historical relevance of faith in America, from Benjamin Franklin's faith journey to the civil rights movement and beyond. 
To learn more about FLDC and how the attraction helps visitors develop a more profound understanding of how faith and culture intersect in America, visit FaithAndLiberty.org.