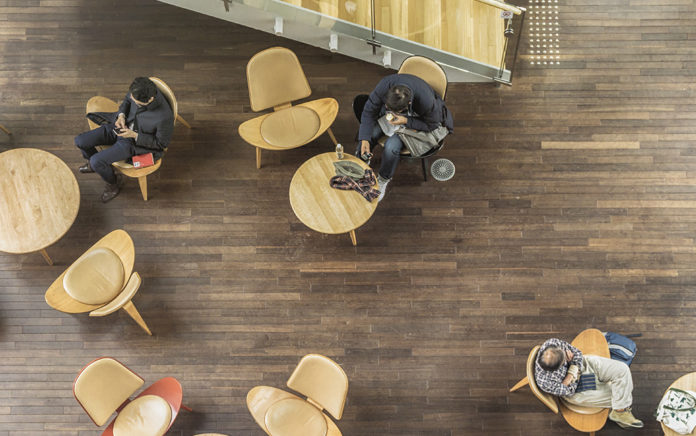 A conversation with ministry space strategist Greg Snider
At Aspen Group, we believe lobbies should be vibrant, mission-critical space for churches. However, right now, your lobby needs to support your church in new ways as you relaunch in-person worship services and begin to phase in key ministry functions. It won't look exactly like it did earlier this year, but you can still use it effectively.
How can you set up your lobby to support safety, traffic flow, social distancing and guest reception? In a conversation with ministry space strategist Greg Snider, he shared some key questions and potential solutions for churches to explore during their team conversations.
How will we keep our guidelines clear and hospitable?
1. Have we focused on simple, intuitive traffic flow? Support traffic flow with visual cues like signage, floor decals, stanchions, or even strategically placed furniture to guide people in the right direction.
2. Should we shift our service times? Some churches have altered service times slightly to allow for more transition time between each one. This adaptation can help with cleaning protocols, and it places fewer people in close proximity to one another.
3. Who should help guide people through this new experience? Choose the most energetic, hospitable staff and volunteers to answer questions and direct guests on guidelines related to masks, symptom checks, and seating.
How can our welcome desk serve as a safe and helpful resource?
1. Do our current fixtures and procedures create a positive relaunch experience for our congregation and guests? When many are reaching out for hope and connection, opt to focus on a relational experience with guests over a transactional one.
2. How can we reduce high-contact surfaces? Consider having those serving at the welcome desk stand in front instead of behind it as they interact with guests. Even while socially distanced, the approach can be more personal, and it prevents people from touching surfaces and leaning on the desk.
As we move into new phases of ministry, how can we incorporate fellowship again?
1. What options do we have with our current lobby furniture? Consider placing furniture in smaller, socially distanced groupings to allow for conversation within small groups.
2. Do we have too much furniture to allow for traffic flow and distancing? If you'd like to create additional space for connection, look at relocating furniture temporarily to allow for more standing room where people can talk and connect.
3. Could we have outdoor options for fellowship? If your church is in a warmer climate, consider using sidewalk areas or courtyards as greeting or connection space. In some milder regions, churches have used outdoor fire-pit spaces or created a tailgate-style gathering to help people reconnect with one another.
First published on AspenGroup.com. Used by permission.