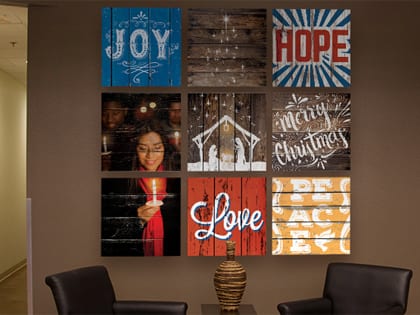 Here's a quick and affordable way to spruce up any ministry space. These canvas prints can be arranged into a collage.
Outreach Wall Art Adds Flexibility and Beauty to Any Church
Updating your church's decor is not only possible, it is easy—and affordable—with Modular Sets from Outreach Inc. Mix and match the new 24- by 24-in. canvas prints to create a collage that fits the vision, mission and themes of your church.
With more than 50 designs to choose from, including backgrounds, arrows, Scripture and church themes, you can update your church's look any time. Choose a pre-made set or design your own. You can even switch one or two out prints each season to instantly update your walls.
To help you visualize what the finished wall will look like, simply go to Outreach.com/Church-Wallart and select Canvas Prints. Choose Modular Art and you can build your perfect set one print at a time from our collection of inspirational designs that are beautiful and ministry-minded.
Once a print is added to the "wall" on your screen, simply click and drag to move it to a different space. To create a blank area in your design, click the "Add Blank Space' button. Get a different look and feel by changing the number of columns and backgrounds until you create exactly what you want. When you're finished with your set, all you have to do is add all the pieces to your cart.
Questions? Call (800) 991-6011 and an Outreach Specialist will be glad to help you.
Click here to learn more »
Build your set now »
More from Outreach Inc. »