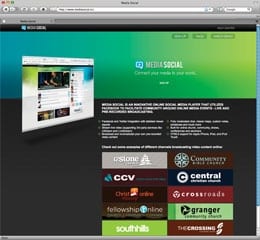 An online social media player that helps create and maintain community around online events
Media Social
Website: MediaSocial.tv
Launched: 2010
Cost: $495 one-time set-up fee; $99 monthly subscription for 50 gigabytes of bandwidth and platform updates; 40 cents per gigabyte beyond 50 gigabytes used in a month
Using Facebook and Twitter, Media Social facilitates community around online media events, including both live and prerecorded video content. It can also stream live video and track participation through moderated chat, viewer maps and custom notes.
Community Bible Church in San Antonio, Texas, launched CBC Online using Media Social in July 2010. In the first week, 300 people logged on to participate in a worship service. Six months later, they began broadcasting 24 hours a day, seven days a week, to a global audience—now representing more than 100 countries. The church has more than 40 volunteer "hosts" who connect online with viewers throughout the day and 106,000 Facebook fans of their online campus, 30,000 of whom live in the Philippines.
Learn more about tech solutions for churches in the March/April 2012 issue of Outreach.
Each issue of Outreach is designed to bring you the ideas, innovations and resources that will help you reach your community and change the world. Check out our current subscription offer »