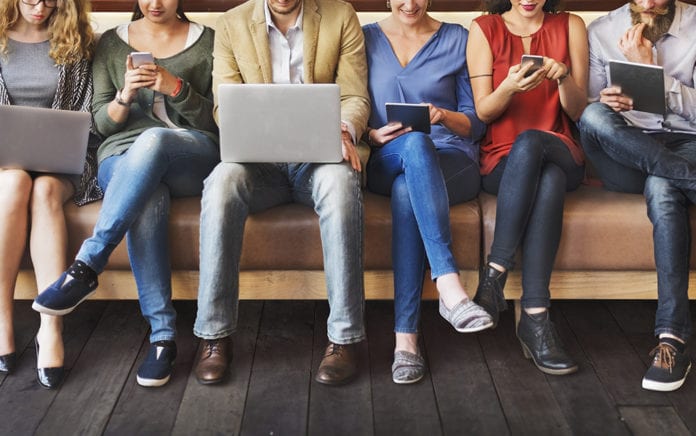 Here are some ways to make Bible engagement a habit in the new year.
In January each year, the YouVersion Bible App has an increase in Bible engagement. On average, the number of daily active users in January increases by approximately 20 percent compared to the previous month. To help people keep their Bible reading resolutions, YouVersion has shared five ways to make daily Bible engagement a habit on the Bible app.
1. Start Small.
Give your initial goal an intentionally low threshold to increase your likelihood of succeeding. If you've never consistently read Scripture, try starting with reading the Verse of the Day every morning. You can even subscribe to push notifications that will share the Verse of the Day at the same time each day. Once you form this habit, you can build on it as the year progresses. Be careful of biting off more than you can chew so you don't end up discouraged in a matter of weeks.
2. Plan to Be Consistent.
Set yourself up for success by making a plan and creating space in your schedule to follow through. YouVersion has more than 13,000 Reading Plans in over 50 languages to provide people with daily passages of Scripture paired with devotional, audio, or video content. They span various lengths, from three days to one year, and cover a variety of topics, including marriage, dating, leadership, addiction, depression, healing and hope. When setting a reading reminder, consider what time of day will best help in reframing your perspective, possibly the beginning or end of the day.
3. Track Your Progress.
When trying to achieve a long-term goal, it can be easy to focus on mistakes. But it's important to celebrate progress too. YouVersion has a handful of features designed to help celebrate your wins. The Streaks feature tracks the number of consecutive days in the app, and Perfect Weeks tracks how many times you're consistently in the app between Sundays. Both features celebrate when significant milestones are reached. You'll also earn badges for activities like creating highlights, bookmarks, and notes or completing Reading Plans.
4. Find Accountability.
Success is more likely when a solid support system is in place. Identify friends who have a similar goal as you, and commit to cheering one another on throughout the year. With the Plans with Friends feature, you can pick any Reading Plan and invite friends to do it with you. The group will be able to see who has or hasn't completed the day's reading, so anyone falling behind can be encouraged. The Plans with Friends feature also provides a space for discussion around Scripture with a trusted group of friends.
5. Take the Challenge.
It can be easy to get off track. That's why, at different points in the year, YouVersion challenges its community to complete different Bible challenges. Completing the challenge means earning a celebratory badge. But more than that, it's also a simple way to renew your habit of reading or listening to the Bible and to jumpstart your Daily Streak and Perfect Weeks again.
Last February, more than 1.2 million people earned badges for being active in the app for 21 consecutive days. The next 21-Day Challenge begins February 1 to encourage the YouVersion community to engage in the Bible every day. Also, keep a lookout for the Mid-Year Challenge and the Christmas Challenge.
Learn more at YouVersion.com/The-Bible-App.