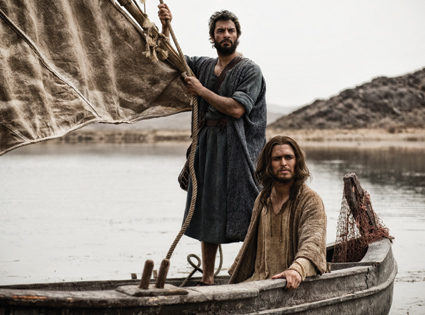 An Invitation for Ministry Impact – The Son of God opens in theaters across the country on February 28th.
It was a decade ago that The Passion of the Christ opened in movie theaters across the country and, ultimately, around the world. That film, focusing on the final 12 hours of the Lord's life, afforded churches an incredible opportunity to share the gospel with their communities. Now, 10 years later, a similar ministry opportunity is coming to the big screen as the movie Son of God opens in theaters Feb. 28, 2014.
The award-winning producers of the record-breaking miniseries The Bible, Roma Downey and Mark Burnett, have created a major motion picture that brings the life, death and resurrection of Jesus Christ to the screen. This marks the first major motion picture about Jesus' life since The Passion of the Christ, providing churches with a tremendous opportunity to share the Son of God with their community—his life, his death, his victorious resurrection and the hope he offers.
Saddleback's Pastor Rick Warren reflects on the uniqueness of this cinematic achievement. "I've probably seen most, if not all, of the films about Jesus produced in the past 50 years," he says. "This one stands alone, in a class by itself, as the best I've ever seen." But it isn't just the quality of the film that Warren found compelling—it's the power of the message. "Here we see the wonder of [Christ's] birth, the power of his mission, the loving sacrifice of his death, but most importantly, we see the eternal hope of his resurrection."
It is this hope, clearly portrayed, that makes the movie event a unique ministry moment.
Outreach Inc., Outreach magazine's parent company, is providing a full suite of resources to help your church make the most of this outreach opportunity. For more information: Outreach.com/SonOfGod.