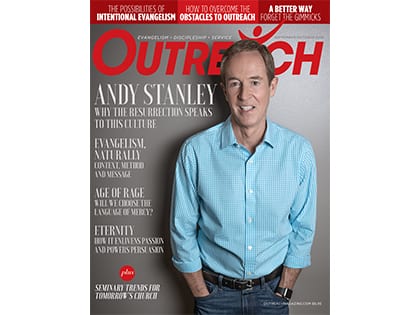 Subscribe now and you'll receive Max Lucado's latest book 'Unshakable Hope' as our gift to you.
The New Issue of Outreach Is Here
Each issue of Outreach magazine is written for growth-minded church leaders and filled with ideas, insights and stories of encouragement to help you reach your community with the love of Christ. In the September-October issue, we focus on how to make evangelism a more organic and natural part of everyday life. To that end, we look at what Christians need to remember when talking to and building relationships with people they may not agree with, especially in today's age of outrage. An exclusive interview with Andy Stanley explores what he now thinks about the old and new covenants, and why we should all drive people to the reality of the resurrection with a renewed passion.
We also look at what reaching others with the gospel looks like from an eternal perspective, plus we included a bonus article on how seminaries are adapting to the needs of today's students and tomorrow's church. All this and more is in the September-October issue of Outreach. And if you subscribe now, you can reserve your copy of the 2018 Outreach 100 Megachurch issue featuring the Fastest-Growing and Largest Participating Churches in America, releasing the first week of October—plus you'll receive Max Lucado's latest book Unshakable Hope as our gift to you.
Go to OutreachMagazine.com to subscribe.