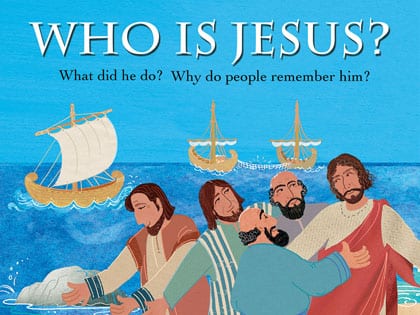 Christina Goodings: Who Is Jesus?
Resource of the Year: Children

Who Is Jesus?
By Christina Goodings; Illustrated by Maria Royse (Lion Hudson)
When I opened this book, I was expecting a typical timeline of the life of Jesus with the highlights of his ministry on earth more than 2,000 years ago. What I actually encountered when I turned the pages was a pleasant surprise!
This is the first time in my recollection that an author presents Jesus' story surrounded by facts that give the reader a real picture of what it was like 2,000 years ago, how people felt and why. The history and context given to today's inquiring mind will not disappoint! It will give young readers a whole new perspective of Jesus and help them to relate it to current times. There is no age limit on this treasure!
Also Recommended:
Cold-Case Christianity for Kids: Investigate Jesus With a Real Detective
By J. Warner Wallace and Susie Wallace (David C Cook)
This is Apologetics 101 for kids. The fictional characters take kids on a very nonfiction journey to discover the truths about the gospel and the hope that we can find in trusting Jesus to be who he says he is.
Devotions Off the Map: A 52-Week Devotional Journey
By Dandi Mackall (B&H Kids)
Whether studying the Bible on their own or with their families, children will enjoy this devotional's substantial content, which is delivered in a fun and engaging way. Themed around a journey, this book offers kids a map to navigate the ins and outs of life by following God.
The Power of Home 90-Day Devotional: Building a Strong Family Day by Day
By Ted and Amy Cunningham (Salubris Resources)
There is a prevailing emphasis on family ministry in today's church culture, and this title brings about a new and fresh supply of resources to help parents in the discipleship of their children.
EVALUATED BY STEVE ADAMS, pastor of children's ministries at Saddleback Church in Lake Forest, California, with more than 20 years of experience as a children's pastor.
This Year's Categories:
EVANGELISM
CHURCH
LEADERSHIP
CROSS-CULTURAL
SOCIAL JUSTICE
APOLOGETICS
CULTURE
DISCIPLESHIP
COUNSELING AND RELATIONSHIPS
CHRISTIAN LIVING
CHILDREN
YOUTH