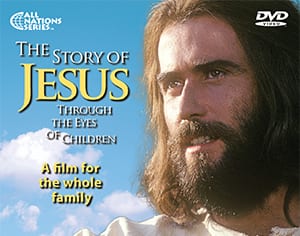 For $100, shoppers can buy 100 DVDs that feature the story of Jesus in 24 languages.
The Jesus Film Project, which has produced the story of Jesus in more than 1,300 languages, is offering two versions of the film for a special price during the Christmas season. For $100, shoppers can purchase a bundle of 100 DVDs that include the Jesus film in 24 different languages, all common native languages of immigrants in the U.S.
"It's a wonderful gift to give to an immigrant," says Vance Nordman, director of Peoples Connection for The Jesus Film Project. "People love to receive something in their own language. All you have to do is say, 'I'd like to give you a gift. It's Christmas, and here's the story of Christmas in your own language.'"
Rather than simply reading subtitles, viewers can actually hear the words of their native language spoken throughout the film.
"When I say the DVD has 24 languages, people assume I mean it's subtitled," Nordman says. "We find the word 'dubbed' doesn't sometimes communicate, so we like to say you can hear Jesus speak in 24 languages on this DVD."
For more information and to purchase, go to ChristmasJesusDVD.org.