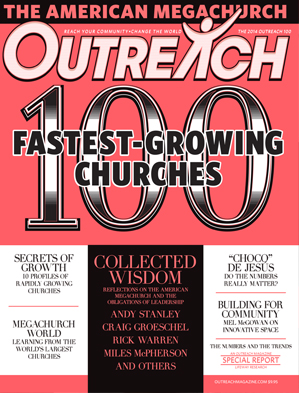 The Outreach Magazine/LifeWay Research Special Report on America's Fastest-Growing Churches, plus Building for Community, Learning From the International Church, 100 Church-Tested Ideas for Outreach, the Shane Farmer Interview and more
Inside the Outreach 100
The American Megachurch
Each year we work with our partners at LifeWay Research to determine the country's fastest-growing churches. The issue invariably generates a significant amount of interest. There's a natural curiosity about large and rapidly growing churches. And so this issue celebrates the thriving American Megachurch.
But there's much more here than applause for large churches. To quote Ed Stetzer of LifeWay Research: "Remember, God used the megachurch to reach Korea and the house church to reach China. Models should be held loosely, and Jesus should be held tightly. We are not convinced the bigger the church is, the better it is. We believe that any church God uses is a great church. With that said, we also believe that facts are our friends. We want to regularly evaluate what God is doing in churches across the country, and one of the ways we do that is through this research."
But there's much more to this issue than facts and numbers. It also tells the stories behind the numbers—and the passion we all share to see lives transformed, churches enlivened, communities on the receiving end of the mercy of God.
In these pages you will find perspective from respected leaders, secrets of growth and ideas for any church, any size. Turns out The Outreach 100 is not just an issue for the American megachurch, it's a significant special issue for all of us.
Don't Miss
America's Fastest-Growing Churches
The Lists, the Trends and the Stories Behind the Numbers, Including Profiles of Some of the Country's Fastest-Growing Churches
Collected Wisdom
Reflections on the American Megachurch and the Obligations of Leadership From Andy Stanley, Craig Groeschel, Rick Warren, Bill Hybels, Mark Batterson, Miles McPherson and Francis Chan
The Case for Space and Community
Have Our Church Walls Become a Barrier Between the Lost and Found? Mel McGowan of Visioneering Studios Offers an Alternative
Shane Farmer: The Interview
The Senior Pastor of This Year's Fastest-Growing Church Recounts His Irrevocable Call
ALSO: Ed Stetzer on Strategies of Small Groups and Sermon Prep, Wifredo Choco De Jesús on Why Numbers Matter, Leadership Network's Warren Bird on What We Can Learn From the International Church and much more.
Plus, in Each Issue of Outreach
PULSE: We take the pulse of outreach today as we report on what churches are doing to connect with their communities.
IDEAS: Church-tested ideas for seasonal and targeted ministries for any church, any size
COLUMNS: Perspective on outreach from Ed Stetzer, Dan Kimball, Bobby Gruenewald, Brad Powell and Brad Lomenick.
Outreach magazine is now available for iPad
Already a subscriber and want to access your free digital edition? Or want to purchase individual issues for iPad? Click here »