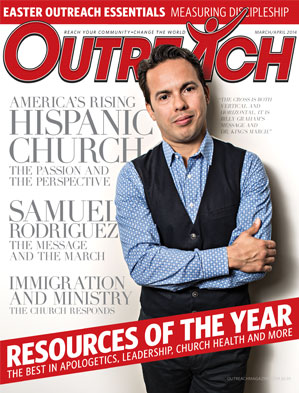 In the March/April 2014 issue: America's Rising Hispanic Church, the Outreach Interview with Samuel Rodriguez and the year's best outreach books and media
Inside the March/April Issue
Hispanic Ministry
How will the church respond to this unprecedented opportunity? While questions of immigration reform for 11 million undocumented Hispanics swirl around D.C., appearing and reappearing in the nation's news cycles, a different set of numbers tells another aspect of the story: America's Hispanic church is rising, and evangelicals are seeing the gains.
The narrative that emerges paints the picture of Hispanic churches shaped by a holistic faith—churches engaged in the community's concerns—and animated by passionate worship and personal faith.
Talk to today's Hispanic leaders in the faith community and they will tell you, the numbers only begin to hint at the size of the opportunity. How we respond, some leaders say, will help shape the future of America's church.
Don't miss this critically important issue of Outreach magazine, which features an interview with Samuel Rodriguez, the president of the National Hispanic Christian Leadership Conference and pastor of New Season Christian Worship Center in Sacramento, Calif.
Also in this issue: our 11th annual celebration of the best outreach resources—apologetics, cross-cultural ministry, leadership, church health and more.
Don't Miss
One Question With Glen Peterson
How can the American church more effectively serve the immigrant population? Perspective from a Southern California World Relief director.
America's Rising Hispanic Church
Demographic shifts are reshaping America, and the Latino population stands at the epicenter of change. How will the American church respond?
Samuel Rodriguez: The Interview
"The cross is both vertical and horizontal. It is Billy Graham's message and Dr. King's march." The president of the National Hispanic Christian Leadership Conference on his journey and the church's opportunity.
Outreach Resources of the Year
Our 11th annual roundup of the best books and media in apologetics, leadership, church health and more.
ALSO: Why we must measure discipleship, the challenge of multicultural ministry, what you miss if you quit, and Easter outreach essentials/p>
Plus, in Each Issue of Outreach
PULSE: We take the pulse of outreach today as we report on what churches are doing to connect with their communities.
IDEAS: Church-tested ideas for seasonal and targeted ministries for any church, any size
VOICES: Trends and commentary on culture, faith and thought
COLUMNS: Perspective on outreach from Ed Stetzer, Dan Kimball, Bobby Gruenewald, Brad Powell and Brad Lomenick.
Outreach magazine is now available for iPad
Already a subscriber and want to access your free digital edition? Or want to purchase individual issues for iPad? Click here »