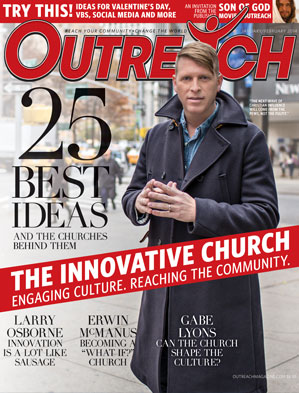 Inside the Jan/Feb issue: Erwin McManus on Imagining the Future, Larry Osborne on the messy side of innovation, 25 best ideas and the churches behind them, and the Outreach Interview with Gabe Lyons
Inside the Jan/Feb 2014 Issue
The Innovative Church
The church was born to innovate. That's its nature. And how could it not be? It was inaugurated as a cross-cultural, intergenerational movement intended to circle the world and span the ages. Since its inception, 20 centuries have come and gone, yet the church persists, ever-new. Agile in the changing times. Fluid in the flow of culture. When the church innovates, then, for the sake of the gospel, is it simply revealing its essential nature, living up to what it is.
Of course, most church change is incremental, small-step stuff. Occasionally innovation unearths something fundamentally new. More often we merely adapt the good ideas of others to our own context, little by little.
In the pages of the January/February Outreach, Erwin McManus urges us to welcome the divine partnership as we create tomorrow. Larry Osborne gets real—innovation is rarely as tidy as we make it sound. Gabe Lyons reminds us of the call to effectively and redemptively engage culture. And, perhaps most importantly, two dozen churches share the big challenges that led to some of their best ideas. And may spark yours.
Don't miss this issue!
Don't Miss
Erwin McManus: Imagine Tomorrow
Moving from a "What Is" to a "What If" culture … What if the church became the human incubator for creating the world's best future? McManus invites you to dream …
Larry Osborne: Messy Innovation
An Outreach magazine consulting editor and North Coast Church senion pastor talks about five common innovation mistakes … and a better way
Big Challenge, Great Idea
Leaders talk about their churches' best solutions in multisite strategy, multicultural ministry, church partnerships, community dream centers, mobilizing for mission and online innovations
Gabe Lyons: The Interview
The culture and the church … Lyons is convinced: the next wave of cultural influence will come from the pews, not the pulpit. So, how are we preparing?
ALSO: Tyler Wigg-Stevenson on compassion fatigue, the stirring of revival in New England, the agile and adaptive nature of the Spirit-led church, and much more
Plus, in Each Issue of Outreach
PULSE: We take the pulse of outreach today as we report on what churches are doing to connect with their communities.
IDEAS: Church-tested ideas for seasonal and targeted ministries for any church, any size
VOICES: Trends and commentary on culture, faith and thought
COLUMNS: Perspective on outreach from Ed Stetzer, Dan Kimball, Bobby Gruenewald, Brad Powell and Brad Lomenick.
Outreach magazine is now available for iPad
Already a subscriber and want to access your free digital edition? Or want to purchase individual issues for iPad? Click here »