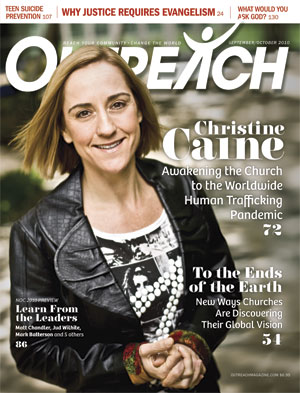 New ways churches are discovering their global vision
What's Featured in the September/October 2010 Outreach?
Theme: To the Ends of the Earth
A Truly Global Vision: A mind for business, a spirit of collaboration and a heart for the disenfranchised are leading churches to new strategies of mission engagement.
Getting Down to Business: Churches in Highlands Ranch, Colo., and Folsom, Calif., share their resources and business expertise to advance the Gospel, train leaders and elevate the poor in Mozambique.
Unleashing Disciples: A Keller, Texas, church redefines its vision for discipleship and world mission and mobilizes its members to use their skills through ministry in Vietnam.
The Outreach Interview: Christine Caine. As founder of The A21 Campaign, this global church leader is awakening the church to the human trafficking pandemic. Tell me more about Christine Caine »

 

ALSO IN THIS ISSUE
OUTREACH TODAY: The Haiti Housing Crisis; Coupon Ministry; Serving Single Parents; Faith and Finances; Continental Divide in Africa; Economic Independence to Help Zambia; Bilingual Tech Connection; Children's Art Exchange; Teens Give a Shirt; Sleeping Mats for the Homeless; and more.
FOR ANY CHURCH, ANY SIZE: A Response to Human Trafficking; Going Green; Making Connections Through Simplicty and Customization; New Life in Frisco, Texas; Five Questions With Five Church Planters; and more.
HOW DO THOSE OUTSIDE THE CHURCH VIEW FAITH? My Life, So Far: Pam Adams, psychic, medium and author, in her own words; Mystery Visitor: An unbeliever reports on an unannounced visit to a local church. Could it be yours? The Question on the Street: If you could ask God one question, what would it be?
As president and missiologist-in-residence for LifeWay Research, Ed Stetzer is in a unique position to observe the American church and comment on trends in outreach. More »

Pastor and author Dan Kimball gives us a look at emerging generations and offers his thoughts on outreach and evangelism in a new world. More »

Dave Gibbons Global Perspective
As the founding pastor of multicultural and multiethnic Newsong Church, Dave Gibbons seeks to remind the church of its mandate to reach the nations, beginning at "the fringe."
Pastor and author Brad Powell offers his experience and insights to help churches realize their full potential and guide pastors through all types of church transitions. More »

Pastor and author Mark DeYmaz urges churches to embrace multiethnic ministry not just for the sake of racial reconciliation, but because that is what the church is called to be. More »

Bobby Gruenewald Innovate
LifeChurch.tv pastor, innovation leader Bobby Gruenewald scans the cultural horizon and calls the church to a creative and relevant response.
Each issue of Outreach is designed to bring you the ideas, innovations and resources that will help you reach your community and change the world. Subscribe here »