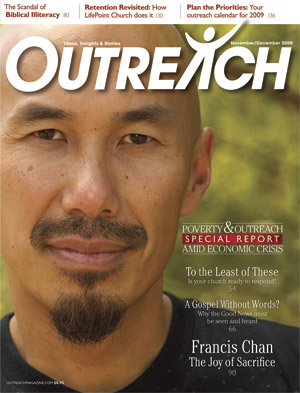 Is your church ready to respond to "the least of these"?
As the economic crisis deepens, will we draw inward, preoccupied with our own financial uncertainties? Or will these times fuel more compassionate outreach to "The Least of These"?
In This Issue
Poverty and Outreach Amid Economic Crisis: A Special Report
Faith and Economic Uncertainty
Is Your Church Ready to Respond?
New Beginnings: Stories of Compassion and Faith
A Gospel Without Words? Why the Good News Must Be Seen and Heards
The Scandal of Biblical Illiteracy
Retention Revisted: How LifePoint Church Does It
Plan the Priorities: Your Outreach Calendar for the Coming Year
The Outreach Interview: Francis Chan on the Joy of Sacrifice