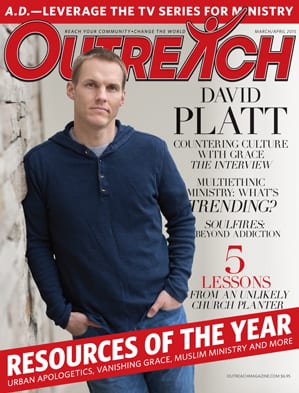 In the March/April 2015 issue: best resources for apologetics, evangelism, leadership and more; what's trending in multiethnic ministry, lessons from an unlikely church planter; and The Outreach Interview with David Platt
Inside the March/April 2015 Issue
Resources of the Year
A Celebration of the Best
This year marks our 12th annual Outreach Resources of the Year, where we gather resources published in the last year and, with the help of expert panelists, feature those voices that can make a significant difference in your understanding and practice of ministry—books on evangelism, apologetics, leadership, the missional church and much more.
This year you will find titles that will help you better connect with Muslims, explore apologetics for the urban community, rediscover the meaning of the kingdom and refocus our commitment to being good news people in a culture where the notion of grace seems to be vanishing.
In this issue we also focus on the church's clash with culture, and best-selling author David Platt gives helpful perspective of what it means to stand for truth gracefully. And we examine five lessons from an unlikely church planter, assess the state of multiethnic ministry and find practical help for Easter ministry and beyond.
Let's dig in.
Don't Miss
ALSO: Five lessons from an unlikely church planter, leveraging the A.D. television series for ministry, promoting Easter ministry, growing through critique; learning from the Canadian church and much more.
Plus, in Each Issue of Outreach
PULSE: We take the pulse of outreach today as we report on what churches are doing to connect with their communities.
IDEAS: Church-tested ideas for seasonal and targeted ministries for any church, any size … plus insight from Warren Bird, Mel McGowan, Charles Lee, Brad Lomenick and Brad Powell.
COLUMNS: Perspective on outreach from Ed Stetzer, Dan Kimball, Bobby Gruenewald.
Outreach magazine is now available for iPad
Already a subscriber and want to access your free digital edition? Or want to purchase individual issues for iPad? Click here »