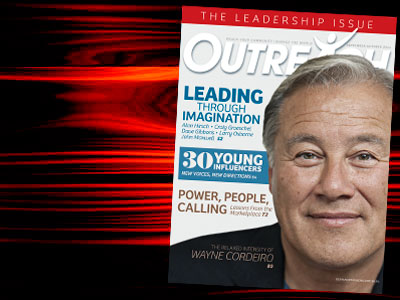 Give ideas, insights and inspiration to your staff, lay leaders and board members with their own copy of Outreach magazine
Inspire and empower your team.
Give the resource church leaders call "invaluable," "encouraging," "relevant" and "inspirational."
"No other magazine affects the bottom line kingdom impact of your church like Outreach. I devour each issue and always walk away with new ideas for reaching people and impacting our city. You simply can't afford to not read it."
Nelson Searcy
The Journey Church
Now you can get special group pricing to give your entire team the resource one small-church pastor calls, "a conference in a magazine … chock-full of ideas."
Join other church leaders who are using the magazine to get their outreach team "on the same page."
"By having multiple subscriptions, we're able to continue to fuel a coordinated and inspired effort for all our serve teams."
Dino Rizzo
Healing Place Church
Baton Rouge, La.
We've made it affordable for you to give your entire outreach team the ideas, insights and inspiration to help you reach your community and change the world.
Throughout the year, each member of your team will receive six timely issues, filled with practical resources and church-tested ideas for any church, any size, plus the annual Outreach 100 special report on America's Largest and Fastest-Growing Churches. Your will learn from the experiences of churches small and large, will read about the outreach issues facing us all, and gain practical help you can "read today and put in practice tomorrow."
3
copies of each issue: Only $20 each.
You save 61 percent off the cover price.
4-9
copies of each issue: Only $18 each.
Save 65 percent off the cover price.
10
or more: Only $15 each.
Best Price: Save 71 percent off the cover price
Subscribe now for your entire ministry team and give them the encouragement, inspiration, resources and ideas to take your outreach to a new level.
Read what other Christian leaders are saying about Outreach magazine.