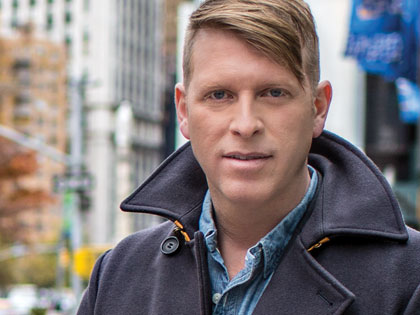 Gabe Lyons: "The next wave of Christian influence will come from the pews, not the pulpit."
Gabe Lyons leans forward and smiles; he knows his guest has done what he expected. The audience at the 2013 Q Los Angeles conference is silent, expectant. Father Elias Chacour, an archbishop in the Melkite Church and a Palestinian, has traveled across the world to say these words: "If being pro-Palestine means being anti-Israel, I don't want you on my side," Chacour exclaims, pointing his cane at the 750 leaders and cultural innovators gathered in LA Live's Club Nokia.
Father Chacour's robes, long beard and massive cross and prayer ropes stand in sharp contrast to the last interview Lyons conducted on the stage: with reality TV director Mark Burnett. Fresh off producing The Voice and his miniseries The Bible, Burnett had his own message for the Q audience: church unity … and also why reality television does, in fact, have something valuable to offer the world.
Such dichotomies are expected—in fact, demanded—at the annual Q conference, hosted in a different cultural center every year. And Lyons, the founder of Q, author of The Next Christians and co-author with David Kinnaman of unChristian, insists this is the full picture of the gospel: the ways God is at work in all areas of culture, from reality TV to infographic design to street art to surfing to politics in Israel and Palestine—all topics explored in LA last April.
"Deep down," he says, "the things you appreciate about our world, whether it's business, art, music or entrepreneurship, are all part of God's design for renewing the world."
Lyons founded Q in 2006 and held the first conference in Atlanta in 2007. But he got his start with John Maxwell's leadership conferences, where he worked with younger leaders and pastors and, eventually, out of that he helped to found the Catalyst conference (with Kevin Small, Andy Stanley, Reggie Joiner and Maxwell). But after several years leading Catalyst, Lyons began to feel drawn to a different conversation.
"It seemed to me that the next wave of Christian influence would come from the pews, not the pulpit," Lyons says. "What were people outside the church talking about—and how does the gospel relate to that? It seemed to me the church was beginning to lose its voice in the broader world."
From Atlanta to Portland to Austin to New York City to D.C. to Chicago to L.A., it's a conversation Lyons and those at Q have been taking on ever since. They're asking what the gospel has to say about innovation, justice, creativity, education and more.
"We need to have a credible voice in the conversation about where our culture is going," Lyons insists. "And, more specifically, where our cities and neighborhoods are going, where our industries are going. The Christian faith has something to say about all those areas. Let's learn to say it in a way that people listen."
Is there a moment or a story you could point to that really solidified your desire to do this "other thing," to start asking questions about Christians' cultural engagement?
Yeah, there was a moment. It was late '99, 2000, and I was reading a book a friend had given me, How Now Shall We Live? by Chuck Colson. A theme in this book was that Christians are called to redeem entire cultures, not just individuals. That really summed it up for me. I had grown up in a culture where redeeming individuals was the name of the game for the church, and it was more about "saving souls." That kind of language was very commonplace and was what the church saw its mission to be. But the more I understood what Colson was saying, I started to see how the church through the centuries had been a restorative force in the world—had created most of the things we love about Western culture: education, medical systems and hospitals, art, music. All these beautiful things, and there has always been this Christian voice cultivating them. I realized, this is what me at 27 years old, and my friends, haven't really heard about. What could happen if we really embraced that we have a responsibility—a stewardship responsibility—and a call to actually be a part of this creativity, instead of thinking our only role as disciples is to hang on and wait until we get to heaven one day, and converting as many people as possible but never giving them this fullness of understanding about how we're meant to live in this world?
That message of Colson's really resonated with me, and I knew it would resonate with a younger generation. My friends and the people I came across appreciated culture—enjoyed culture–but we didn't know how to think about it "Christianly." But I knew I couldn't just hand this 600-page book to my friends. There were some pioneers who had been talking about it, but it hadn't started to catch on broadly within the church. God used that book to start me in this calling—to be a part of making sure that message became more known throughout the church. For me that meant using the skills and experience God had given me in events and in gathering people to begin the conversation for American Christians.