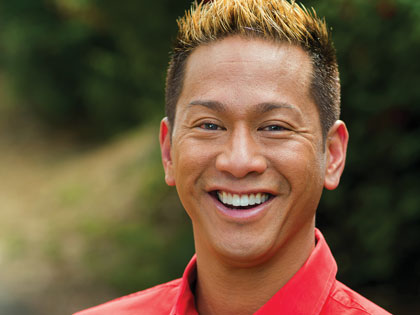 "I stick to the things I do best. For everything else, I empower others."
Mike Lwin Senior Pastor
New Hope Leeward Waipahu, Hawaii
A 2013 Outreach 100 Church
TURNING POINTS
The biggest turning point in our church's 10-year history happened recently when we were informed that the zoning change and special use permits for our 203-acre future ministry center campus were denied by the state of Hawaii's Office of Planning. Without the ability to move onto our new campus, and because we experienced continual attendance growth, we were forced to become a multisite church. We went from seven weekend services to 17, and it doubled the number of available seats per service!
The blessing was that God obviously had an extraordinary plan for us to do more evangelism in three new communities with young families. God allowed us to transform a movie theater, a former Office Depot store and a former Ace Hardware store into new ministry center campuses. We would have never planned to be a multisite church, yet due to our permitting challenges, we had no option but to go multisite. This has turned our faith to a greater sense of confidence in God. When he has a vision, you do the best you can, and then trust that God is going to orchestrate the way to get there. Interestingly, now that we have expanded into three new campuses, God is opening the door to get the proper permits for our 203-acre ministry center campus. The plan will be to add a new 2,500-seat auditorium on our new campus. God must believe in us more than we believe in ourselves!
MEASURING SUCCESS
We measure the success of our weekend service experience when we see someone who is far from Jesus come to church and get so excited about Jesus that they invite someone else to church who is far from Jesus.
When it comes to spiritual growth, we measure our success by how a person gets involved by using their spiritual gifts and how consistently they maintain a personal Bible reading program.
Another huge measurement of our success has always been when young leaders start taking on leadership roles. Many of the current leaders and staff at our church started off as young kids who wanted to get involved in our church.
Finally, the ultimate measure of our success is to have people in our community who do not attend our church make the statement that our community is better because of our church and what we do to impact the world. In other words, if our church were to disappear, the community would miss our presence!