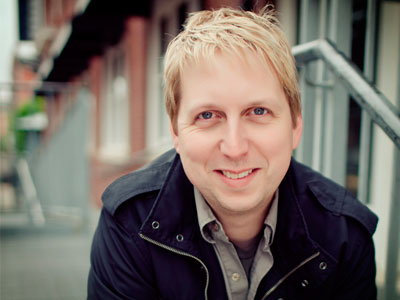 The pastor, innovation leader at one of the largest and most progressive churches in America talks about innovation and opportunity
BOBBY GRUENEWALD is pastor, innovation leader at LifeChurch.tv. FastCompany.com recognized him as one of the 100 most creative people in business in 2011, noting his work with YouVersion. Read more about YouVersion »

CONNECTION TO OUTREACH: Bobby Gruenewald is an Outreach magazine contributing editor. His column, "Innovate," appears in each issue. He is also the featured interview in the Marach/April 2012 Outreach Resources and Technology issue of the magazine.
.
BOBBY SAYS:

Paying Attention to Trends:
Keeping pace with technology advancements can be overwhelming. In fact, if they don't affect us and we aren't interested, it's tempting to ignore them. But if we're building the church for the world and not ourselves, it's worth the effort to understand. The good news? We don't have to change as fast as technology changes. We just have to stay in step with how quickly people are changing. Doing that will take shape differently for each of us (tracking social media, watching the news, etc.), but it can be as simple as maintaining a curious outlook and asking questions about why people are engaged in new things.
Sharing Resources, Exchanging Ideas:
What if you gave away the idea that really helps people connect to your church? Would you share the thing that's really working to help grow your youth ministry? How about some marketing strategies you've found to be particularly effective? When we acknowledge that everything we've received is from God (even that killer strategy), it becomes much more natural to share that blessing with others.
A Vocabulary of "We":
As we relate to others, we don't need to shy away from taking a firm stance for truth. But we are not perfect people, and we've made plenty of mistakes too. Approaching things from the perspective of "we" blends transparency, love, grace and truth. From this perspective, the message of Christ is not directed just at others, it's directed to all of us. We share what God's doing in our lives without being vague, but by honestly sharing our mistakes and how we've realized God has called us to a higher standard. We are all walking through this life together.
Responding to Mobility:
If people are increasingly mobile now, how does this shape the opportunities we offer to engage them in ministry? Do we offer faster on-ramps to volunteer leadership? Provide opportunities for people to connect to things remotely? Do we emphasize more personal ministry ideas that extend the ministry of the church to wherever people are located?
Comparison and Competition? Or Cooperation and Collaboration?
It's my hope that we could change our perspective from comparing the size of our churches to one another and instead compare them to the size of the opportunity that exists. When we do, we'll be more inclined to work together as the global church as we see the enormity of the mission field that lies before us. Each one of us has a significant role to play as we "go and make disciples of all nations."
This Generation's Unique Opportunity:
We have the unique privilege of being alive during the peak of the population curve, and we are blessed with more resources to reach people than ever before. What could God accomplish through our generation?
4 Global Trends and Ministry Opportunities »
HOW TO LINK: Connect with Bobby at LifeChurch.tv, through his blog, Swerve, co-authored by Craig Groeschel, on Twitter @BobbyGwald or on Facebook.
GOT A COMMENT OR QUESTION? Post a comment on this page or send an email.
Each issue of Outreach is designed to bring you the ideas, innovations and resources that will help you reach your community and change the world. Check out our current subscription offer »