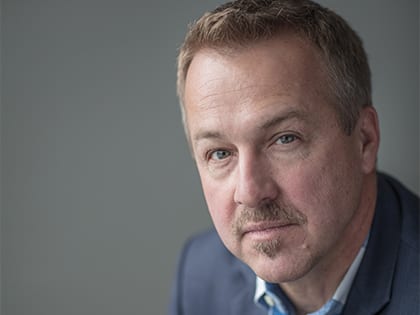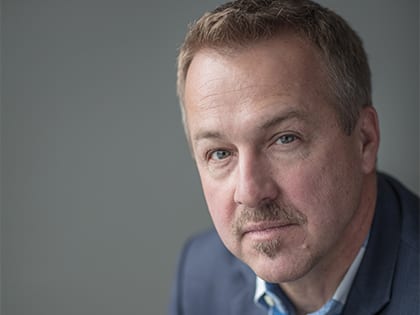 "If you want to leverage your life for impact, it will be by being that hero-maker—the person who raises and empowers others."
Dreaming Big, Starting Small and Multiplying Culture-Changing Leaders
Dave Ferguson is a man on a mission: to multiply a movement of reproducing leaders and churches. Well-known as the president of Exponential, a conference for church planters and multipliers, he also is a key founder (with his brother Jon) of the NewThing church-planting network, operating on four continents. Grounding all this work, Dave co-pastors, with Jon, Community Christian Church, a multisite church with 12 locations in the Chicago area. Outreach editor-at-large Paul J. Pastor sat down with Dave to discuss his key shaping influences, his commitment to being a multiplying "hero-maker" instead of clinging to platform, and the central mission that fuels it all.
Dave, take us back to the moment you knew you were called to ministry.
The passion first surfaced during the middle of my freshman year of college. I didn't have any clear career direction, though I was thinking maybe I'd be an attorney or something. Politics intrigued me. But a question began to play on repeat in my mind: "What are you going to trade your life for?" It sounds kind of grandiose, but it pushed me. Whether the trade would come all at once, or over the next 60 years, I knew a trade would happen.
I began to think seriously about it. I didn't have the language for it yet, but in essence, my heart wanted to trade my life to help people find their way back to God. I had grown up in a pastor's home and had a very positive experience with church and ministry. But trading my life to help people find their way back to God? That was compelling to me in a new way. It wasn't about seeking a pastorate; it was about living a passion.
I thought it through over the next few semesters of college and decided to start a new church that would start other churches. That, I thought, would help the most people find their way back to God—a process of multiplication.
So the vision for multiplying was there from the beginning?
Yes, though it grew. Part of this was the fact that when I was 4 and my brother Jon was 2, my parents moved from rural Missouri to Chicago to plant a church. I grew up in that, as part of a "restoration movement" church that sought to get back to New Testament Christianity. It grew to about 1,000, with people coming to faith and being baptized. They even went to multiple locations long before "multisite" was a word. Some of that was very formative. I saw church planting as good and natural. (And as an aside, my dad is one of our campus pastors now.)
Who in your life, mentors or otherwise, helped form you in that root passion?
Well, like most of us, my passion took a little while to find its feet. While still in college, I did some ridiculous but super-zealous things. [Laughs.] We started something called "The Soul-Winners Club." [Groans.] I basically guilted every faculty member in the college to start doing door-to-door street evangelism. I just didn't know anything else. We saw some people come to faith through it and get baptized, so I can't knock that, but I had so much to learn.
But let's talk people. One of the key, indispensable, there-from-the-very-beginning people is my brother Jon. He is one of the most important people in my life. We have done all of life together—from our D & J Lawn Service business as boys, to college roommates, to planting the church together 28 years ago, to founding NewThing, to writing books together in the present day. He is a remarkably accomplished leader, such a vital, integral player in my life and ministry.
My wife, Sue, is a forming influence as well. She's a truth-teller, which I need, and has been the perfect complement with her drive and honesty, keeping me grounded and on track with home life as well as church life.
Dad, brother, wife … these close relationships have been so shaping. God has been extraordinarily kind through them. But I've often been in the right place at the right time for other strategic influences, too. Another key voice in my life is Carl George, founder of the metachurch model. Carl encouraged churches built on cell models that reproduce at every level. When I was just getting ready to plant, I basically pestered Carl to let me attend an exclusive conference where he was presenting, and even though I was a very green, yet-to-plant young pastor, it was formative.
Jon and I joke that Carl was our Obi-Wan Kenobi. If you read our book Exponential, in many ways it's what I learned 20 years before, just applied. "Ah!" Carl said when he visited us in later years. "The unpainted version!" He presented this model of church that was about reproducing leaders, reproducing artists, reproducing at every level. He'd always say, "If you can reproduce micro, you can reproduce macro." It all made sense. And we began to do it. Everyone on our team grabbed an apprentice leader, and we began trying to live out this idea that church could be its own reproductive model. And of course it worked—with leaders, small groups, large groups, everything.
Lyle Schaller was another vital influence. He was named the most influential Protestant leader in America in a 1988-89 survey, even ahead of Billy Graham. Well, Lyle lived in our area and came to our very first service at Naperville Central High School. We forged a real friendship.
Whenever I had a question about anything, I knew I could find him in our local library. He had this philosophy that if you gave him 40 hours in the library, he could write a book on anything. And he did—with over 50 books to his name. So I'd go with long lists of questions, and our relationship grew. He'd have me over to his house, and his wife, Agnes, would make brownies. What Peter Drucker was to church management, Lyle Schaller was to church life in North America, and I learned so much.